The 7th Generation Pony-Car
Nearly six decades have passed since the first ever 'pony car' was introduced to the world. The 1965 Ford Mustang sparked a new age in the American automotive industry. Just that much bigger than Chevrolet's Corvette, the all-new Mustang was an instant success, with sales surpassing more than 400,000 units in its first year of production. Since then, Ford has produced 6 generations of America's pony car, and has now introduced a new pony to the stable.
Power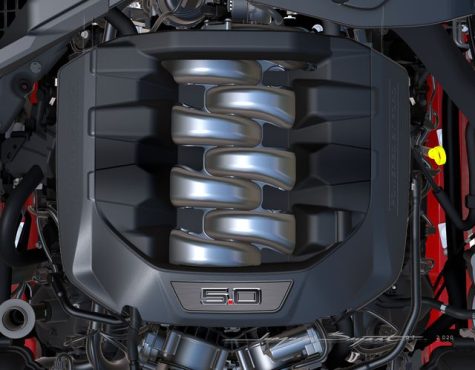 Revealed last week at the Detroit Auto Show, the all-new 7th-generation Mustang has been completely redesigned from its prior model years. Sticking true to its heritage, the 2024 Mustang is still equipped with either a 2.3L turbo 4-cylinder EcoBoost engine or a 5.0L V-8 'Coyote' motor under the hood. Both engines have been thoroughly upgraded, though. The EcoBoost has received the most upgrades which include a higher compression ratio, and new ignition and fuel delivery systems. These upgrades help make the little EcoBoost more fuel-efficient whilst keeping the power ratings. On the upper end, Ford has released a fourth generation of the 'Coyote 5.0' which features dual air intakes that are claimed to provide airflow for an increased horsepower rating. Though Ford hasn't released power ratings for either engines yet, it's expected that the EcoBoost will feature above 330 horsepower and 350 pound-feet of torque, while the Coyote is expected to boast above 480 horsepower and 420 pound-feet of torque.
Exterior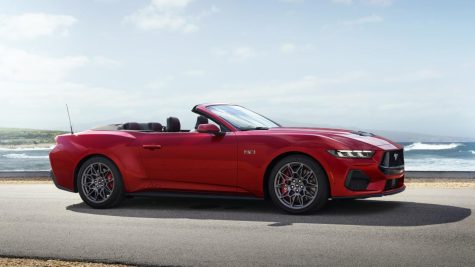 The 6th-generation Mustang brought with it a more muscular body with some sharp edges, but Ford has gone all-out on the 2024 Mustang. Sporting an even edgier body with some even more muscular vibes, the new Mustang takes with it some design cues from the outgoing generation but looks like it never missed leg day and can bench 250 with no stress. Its front end includes a wider and taller grille that sits pretty in between brand new headlights that feature a tri-bar LED system. In the rear, Mustang's heritage shows through even more as the iconic three-bar sequential tail lights bring together the rear of the car. Side profiles of the 2024 Mustang compared to the outgoing Mustang show that there are some design cues taken over from the previous model, however the rear quarter panels are widened to give the car a wider stance.
Interior
Inside the cockpit of this new pony car is a more driver-focused interior that replaces the classic dashboard design that has been in all prior Mustang generations. In an era of digital displays and new, flashy technology, Ford has offered the Mustang with a 12.4-inch gauge cluster that sits nicely next to a 13.2-inch touchscreen. This interior looks like it's been taken over by tech, and Ford has done this to appeal to a 'younger demographic' of consumers that enjoyed playing video games such as Forza Motorsport. These video games inspired the updated user interaction that can be seen in the Mustang's new infotainment system with SYNC-4. Included among these new features is the option to change the design of the gauge cluster or instrument panel in the car. One such option is the retro design that looks to be inspired by those on the 1987-1993 'Foxbody' Mustangs. Wrapping all of this interior together is an increased leather presence in the cockpit. Now, the majority of the dash and doors can be wrapped in leather, among other trim pieces. However, all plastics now look and feel more upscale than before.
Pricing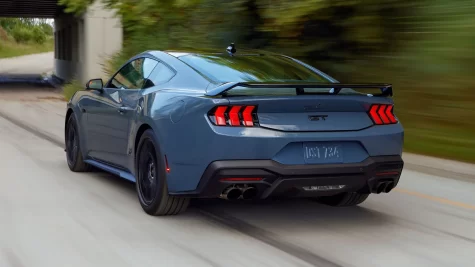 Although Ford hasn't yet announced the exact price range of the 2024 Mustang, it is expected that the new Mustang will stay close to the pricing of its outgoing model. This would suggest that the 2024 Mustang will begin as low as $29,000 and range to prices above $57,000. This 7th-generation Mustang is set to arrive at dealers around next summer. Exact dates for order placements have not yet been determined, however.