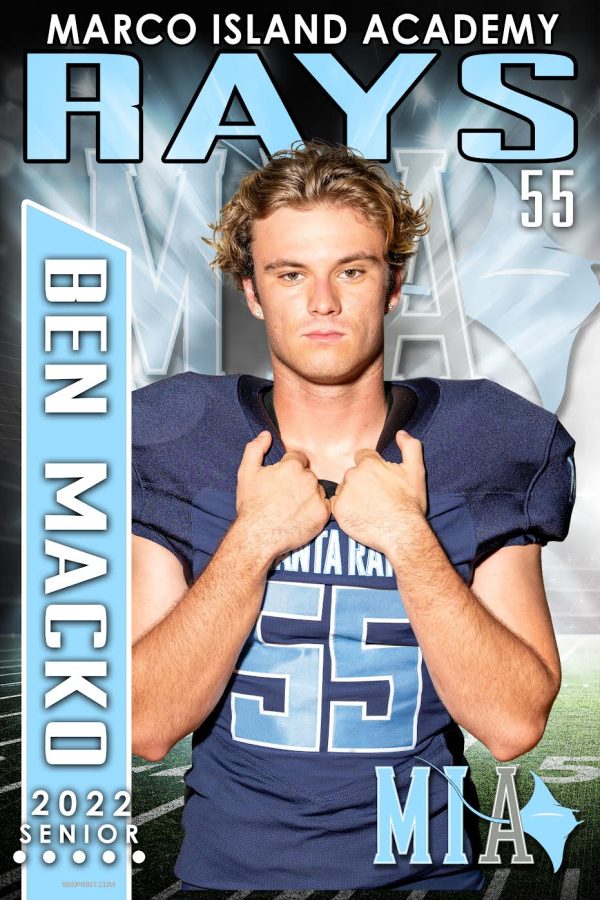 Senior Spotlight: Ben Macko
Growing up watching football with his family, Ben Macko quickly fell in love with the sport. After many years of playing Madden and watching the game on the big screen, he decided he wanted to be part of the action and join the MICMS football team in the 8th grade. His first year playing was a challenge, for he didn't have the slightest clue how to actually play the game. Most of his time on the field was spent running around trying to hit someone just hoping he was doing the right thing. After a whole season on the middle school team, Ben felt confident on the field and decided to continue pursuing football his freshman year at Marco Island Academy.
However, Freshman year football brought lots of nerves for him. Being on a team of mostly upperclassmen was a bit intimidating at first, but they shortly became people he looked up to and some he would even consider to be older brothers. During his first year playing for the MIA team his main focus was learning how to tackle properly and really getting his head in the game. His most fond memory from his first year on the team was going out to eat with the team after losing to FBA. Sophomore year football was Ben's best season because this was the year he became closest with his teammates and had the most memorable season. He enjoyed every bus ride to and from games, bonding with the team and always supporting each other even though the outcome of the game was never what they had hoped it would be.
In the spring Ben occupies his time playing lacrosse for the Lely lacrosse team. Ben has enjoyed meeting new people from Lely and being given the opportunity to make friends with other guys his age that do not attend MIA. One of his favorite memories from lacrosse was doing summer workouts in the weight room. Ben felt it was a great bonding experience and everyone motivated each other to keep going. The fast-paced sport is just the right thing to get your adrenaline rushing and to clear your mind, making it Ben's favorite sport to play. When Ben isn't on the field with a football or a racket, he is most likely out fishing with his dad just about anywhere off the Island. Balancing school work, sports, and still trying to enjoy senior year can be a challenge for most, but Ben manages his time after school by taking a brief 30-minute break to relax before heading to practice or working on homework. 
Ben took a break from football his junior year to focus on school and work. At the time, Ben was working on the beach and it took up most of his after-school hours, on top of taking some of his hardest courses. But, he got right back into his senior year for one more season on the field. Although Ben made lots of memories this season his most memorable was winning homecoming king. "All of my closest friends were there hyping me up and it was a really great moment to celebrate with all my closest friends with me." 
After graduation, Ben has made the decision to study at the Santa Fe College in Gainesville, FL. He plans to attend Santa Fe for his first two years to focus on his general credits before transferring to the University of Florida where he hopes to pursue a degree in Construction Management. Ben says he knows many people who have found themselves to be very successful in the construction management field, and he hopes to find himself in the same path of success.