Standing with Ukraine
Ukraine and Russia's Long History
Ukraine was first part of the Russian Empire in the 18th and 19th centuries. Through the years 1917-1921, Ukraine had brief independence from Russia but was shortly taken into Soviet rule under the Ukrainian Socialist Soviet Republic, which was established in 1922. They suffered cruel treatment and harsh punishments. In 1932, a Soviet Leader killed three million Ukrainians in a year. Ukraine then joined the USSR – United Socialist Soviet Republic – in 1954. In 1991 Ukraine declared its independence from Moscow after almost 70 years of being controlled. The Soviet Union was officially coming to an end as well. 

As NATO – The North Atlantic Treaty Organization – gained popularity, Ukraine's interest to become a member grew. In 1994 they joined a 'partnership' with NATO, and in 2013 they signed an 'association' agreement with the European Union. This soon all came to an end after Ukraine's pro-Russian government stopped it from happening. When Putin saw the backlash he was receiving from Ukraine's choice, he turned to violence. In April 2014, 40,000 Russian troops gathered on Ukraine's eastern border. The Crimean Peninsula, and the Donetsk and Luhansk regions were invaded. This resulted in the death of over 13,000 Ukrainians. Since then, Putin has been preventing Ukraine from moving westward. 

In January 2022, Russian troops were conveyed, gathering along the Ukrainian borders. On February 24, the lives of millions were changed forever. President Putin claimed he would be releasing a 'special military operation' directly towards eastern Ukraine, however, he launched a large-scale military invasion instead. Within hours of his announcement, numerous explosions were reported. The Ukrainian capital Kyiv was hit along with Kharkiv, Odessa, and the Dondas.

Wall Street Journal

Vox
The Aftermath of Putin's Actions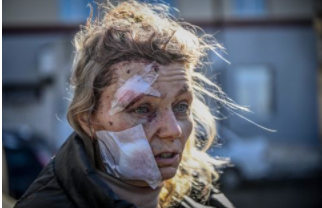 "I must have had a guardian angel," says 52-year-old Olena Kurilo, a mother-of-one and kindergarten teacher in Ukraine. She was in the missile's path when it struck her apartment in Kyiv on February 25th. She was left with extensive facial injuries and lacerations. Olena was forced to create a video showing her wounds from war because the Russian media accused her of faking them. "I am a true person, I am not fake," says Olena. During the video, Olena explains her story. I encourage you all to watch this video, but please understand that it contains graphic content that some viewers may find upsetting.
Link;https://www.dailymail.co.uk/news/article-10560223/Ukrainian-image-war-shows-wounds-Russia-accused-faking-injuries.html#v-8996763902676845576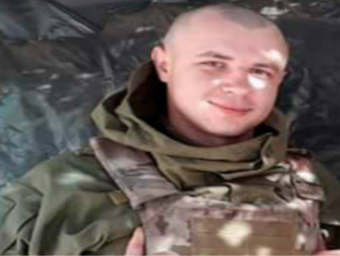 As fighting, gunfire, and explosions remained, more people started to be affected. Two large explosions took place in Kyiv, and oil tanks caught on fire. Fire ranged at an oil storage area near Vasylkiv Air Base, southwest of the central air base's runway. Heavy gunfire in the western district killed a six-year-old boy and injured three more. Ukrainian soldier, Vitaly Skakun Volodymyrovych, died while detonating a bridge to slow the Russian invasion. "Our brother was killed. His heroic act significantly slowed down the push of the enemy, allowing the unit to relocate and organize defense," Ukrainian military officials said on social media. Vitaly has been named 'heroic' for his actions by millions of people across the globe. He sacrificed his own life for others. 
On March 2nd, the city of Khersonbegan, was stormed by Russian soldiers. The Russians were able to take complete control of the central city. Russian troops and tanks rolled into Kherson, on the Dnieper River near the Black Sea. After days of intense fighting, as many as 300 Ukrainian civilians and fighters were dead. As airstrikes and fighting remained in Kharkiv, more damage and destruction took place. Russian military strikes hit at least three schools, a cathedral, and shopping stores. 
On March 3rd, Ukrainian President Zelensky came out with a speech addressing the world. His discourse highlighted Ukraine's damages, the 'no-fly zone,' and his hopes for peace. The 'no-fly zone' is a designated area over which aircraft may not fly without the risk of interception, especially during a conflict. When talking about this zone, Zelensky stated, "Is this a lot to ask for, to create a no-fly zone over Ukraine to save people? Is this too much to ask, humanitarian no-fly zone, something that Russia would not be able to terrorize our free cities?"  He also stated that there have been over 1,000 missiles fired by Russians, along with countless bombs and drones used to kill them with 'precision.' 
Then, Ukraine's nuclear power plant located in Zaporizhzhia was set into flames by Russian forces. The Zaporizhzhia power plant generated about 20% of the country's electricity. The fire first began in the training building located outside the main reactor complex. Over forty firefighters and ten units came together to tackle the blaze. Thankfully, it was able to be put out and didn't experience any serious impairment. Ukraine told the IAEA -The International Atomic Energy Agency – that the site had not been affected. 
The Loss
With terror still raining near capital Kyiv, ten-year-old Anastasia Stoluk was shot dead in what she thought was the safety of her home.'Bored' Russian troops walked the streets, drunkenly firing their guns at random when they heard another gun go off. "They looted all the stores in the village, of course, they got a lot of alcohol from the stores and got drunk and started shooting," said Anastasia's mother, Vera. The ten-year-olds uncle was also shot too and rushed to the hospital. There are still no updates on how he is doing, but we hope he is okay.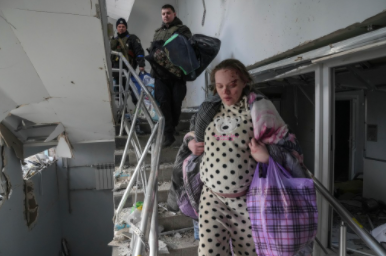 On March 9th, Mariupol Maternity Hospital was destroyed by Russian airstrikes. The attack left women in labor injured and children harmed. There were a total of seventeen deaths. This is the latest horrific incident of the 14-day invasion, the biggest assault on a European state since 1945. Zelensky took to Twitter after the incident and stated, "Children are under the wreckage. This is an atrocity! How much longer will the world be an accomplice by ignoring terror? Close the sky right now! Stop the killings! You have power but you seem to be losing humanity." He also attached a video of the wreckage; https://www.rferl.org/a/31744930.html Yet again, Russia's embassy accused a victim of faking her injuries after the attack. The embassy painted Ukraine beauty blogger, Marianna Podgurskaya, as a fraud after claiming the bloody photo captured of her was just the use of 'heavy makeup.'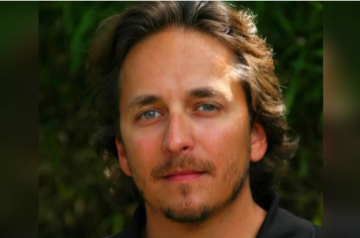 Four days later American journalist Brent Renaud was shot by Russian forces in the town Iprin. Renaud was in his car traveling to film Ukraine refugees when the Russian's fired. The head of Kyvi's regional police force, Andriy Nebytov, posted photos of Renaud's passport confirming both his death and his identity. Edward Felsenthal, the Editor-in-Chief and CEO of TIME has put out a statement saying, "We are devastated by the loss of Brent Renaud. Our hearts are with all of Brent's loved ones. It is essential that journalists are able to safely cover this ongoing invasion and humanitarian crisis in Ukraine."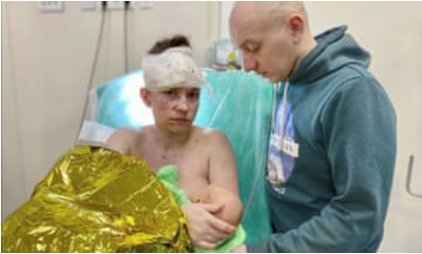 With bloodshed and war continuing in Kyiv, blasts and bombs begin to stike near everyday neighoods. 27-year-old Olga has been reconqized for sheilding her 6-week-old baby with her own body as blast striked near her home. Olga says she had just awoken to give her baby, Victoria, a bath and feed her as devastation hit. She was sitting with her knees up and Victoria in her lap, covered by a blanket — "and that's what kept the baby alive. I just got her covered in time," said Olga. They have both been treated at the Ohmatdyt Children's Hospital in Kyiv. Doctors say they preformed surgery on Olga to remove 'muliptle fragments' stuck in her body.
Ukrainians have been forced to live in constant fear, yet again. This war is far from finished and Russian troops are still attacking and advancing daily. Putin has shown no signs or plans of stopping until he gets what he wants. His actions have led to over 900 civilian deaths and over 1,400 injured. Innocent people are dying daily and suffering greatly. 
On March 16th, Zelensky released a video during a congress address. I encourage you all to take the time to watch this video which displays the horrific and tragic events taking place in Ukraine. However, please know this video has been labeled as graphic and contains some content viewers may find upsetting.  Click here to watch the video. 
Help From Around the World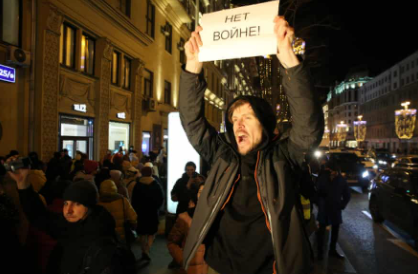 Countries, organizations, and people from all over the world have been helping Ukraine. European and neighboring countries have been opening their borders up to allow Ukrainian refugees through. Poland has had over a million people so far and is one of Ukraine's closest allies. Romania has taken in 140,000 refugees, and their foreign minister stated they will provide "whatever is needed for them to feel safe."  Germany, France, Ireland, Bulgaria, Slovakia, Czech Republic, Moldova, and Hungary have been allowing Ukrainian refugees. 
Several NATO nations have provided aid and weaponry in hopes of helping Ukraine. The United States has been the largest supplier so far. It initially sent $200m (£152m) and then a further $350m (£267m) of weapons. The US has also announced an expansion with a one billion security aid package. Britain, The Netherlands, Belgium, Poland, Estonia, Latvia, the Czech Republic, and Slovakia have all sent military equipment as well. The EU has also sent funds to Ukraine. This is the first time they have ever helped provide for a warzone. They have said they will send up to 450m euros.
 Protests around the world have started occurring as well. Following Putin's announcement of war, crowds gathered everywhere. Crowds gathered in cities including Atlanta, Washington, D.C, and New York in the US. Places all over the globe have come together, raising Ukrainian flags in hopes of peace. Russia's citizens protested as well in over forty-seven cities across the country. More than 1,700 people were reported arrested for protesting in Moscow's capital.
How You Can Help
1.) The United Nations World Food Programme gives food to people in need. This program is on the grounds of providing critical food assistance for people fleeing. $75 can provide a family with an emergency box containing enough food for a month. 
Link;https://secure.wfpusa.org/donate/ukraineconflict-gsst?ms=GS_Q2_EMR_Ukraine_Terms&gclid=CjwKCAjwxOCRBhA8EiwA0X8hi7zt7B6KI7mvAZl7sCklFJdWC3q5PXv4sJJblN-8Vrb4Lb729r0-NRoCLj8QAvD_BwE
2.) Nova Ukraine provides emergency relief efforts and aid. They are on the ground throughout Ukraine and neighboring countries, providing food, medical, personal hygiene items, and baby care. 
Link;https://www.give.novaukraine.org/?gclid=CjwKCAjwxOCRBhA8EiwA0X8hixJxj2Ad2guXPAxtmkHi4twRUJWWCOd14w9-smYTLgU0RXIZQaGy7hoCx4sQAvD_BwE
3.) Mercy Chefs has been helping those in need for years. They provide hot meals to those hungry. They are currently deployed onto the Ukraine border to help refugees. 
Link;https://www.mercychefs.info/donate?utm_source=google-ads&utm_campaign=&utm_medium=&&utm_term=ukraine%20red%20cross&device=c&campaign_id=16453020656&ad_group_id=133960400333&gclid=CjwKCAjwxOCRBhA8EiwA0X8hi4ohqgJ0IK9QpLhq5xxR_4E8u3R7H1-BvOHhvqvIkZ_r0IUl0_HLKxoCxl4QAvD_BwE
4.) UNICEF, the United Nations Children's Fund, has been working 'nonstop' to deliver lifesaving programs for affected children and families. Children everywhere have been caught in the crossfire. With UNICEF, they are being helped. 
Link;https://www.unicefusa.org/stories/unicef-children-crossfire-ukraine-crisis/39542?utm_campaign=20220225_Emergencies&utm_medium=Organic&utm_source=UkraineWebStoryChildrenFeb2022&utm_content=LearnMoreUkraineWebStoryChildrenFeb2022&ms=Organic_PRL_2022_Emergencies_20220225_UkraineWebStoryChildrenFeb2022_LearnMoreUkraineWebStoryChildrenFeb2022_none_none&initialms=Organic_PRL_2022_Emergencies_20220225_UkraineWebStoryChildrenFeb2022_LearnMoreUkraineWebStoryChildrenFeb2022_none_none