Ford F-150 Lightning
Lightning Strikes Again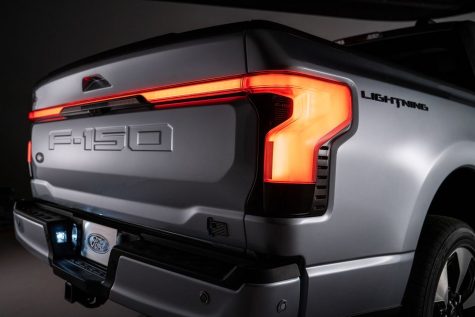 After about eighteen years of hibernation, the Ford 'Lightning' nameplate has returned. This time, in the form of an electric pickup rather than the 380-horsepower supercharged V8 that was seen in the final 2004 model year. Now, the Ford F-150 Lightning has returned as an electric pickup with two configuration options: a 426-horsepower motor with a range of about 240 miles, and a 563-horsepower motor with over 300 miles of range. These power ratings are fitting to its lightning name.
Let's talk Power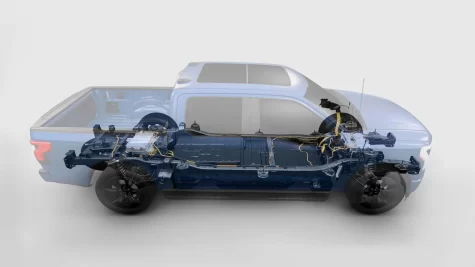 Ford boasts that its F-Series pickups have been "America's best-selling truck for 44 years for a reason," and uses this as an avenue to introduce their high-powered electric pickup. Powering this electric F-150 are two electric motors that are mounted on the front and rear axles. These electric motors provide more torque, which causes the truck to have a faster acceleration rating than any prior F-150s. All models of the Lightning have a torque rating of 775 pound feet, boosting the towing capacity up to 10,000 pounds.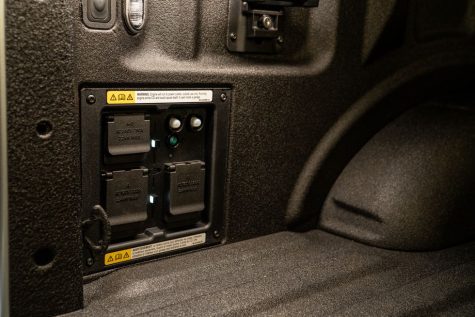 Speaking of power, Ford claims that their Lightning pickup can power a household for "up to three days on a fully charged battery," using their available Ford Intelligent Backup Power. With a properly equipped home, Ford states that the Lightning could power a home for up to 10 days "if rationing power." Onboard, the truck also offers 9.6 kW of max power that circuits through 11 outlets on the truck. In the bed, the truck has a 240V outlet for "tougher tasks at hand." In the bed, a maximum payload of 2,000 pounds is possible.
In case you're wondering how much pep this truck's got in it, Ford states that the Lightning's 0-60 time is in the mid-4-second range.
Exterior Styling
Styled very similarly to its gas-powered brother, the F-150 Lightning sports a more streamlined body with a rounded front end and a rear that brings the entire truck together. Unlike the gas-powered F-150, the Lightning has a flat piece where the grille would be if the truck were gas-powered.
The F-150 Lightning is available in 4 different trim levels; Pro, XLT, Lariat, and Platinum. Prices range from $39,974 to $90,874 – a pretty hefty price for a half-ton pickup. Like the gas-powered F-150, the Lightning also offers a twin-panel moonroof.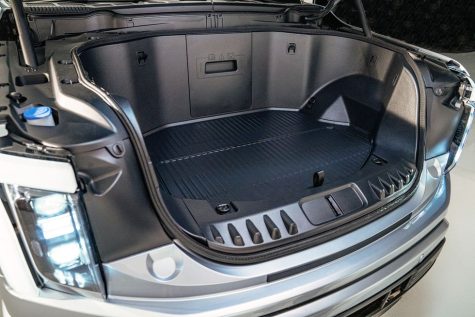 Ford has given consumers plenty of storage space with this F-150 Lightning. In place of the traditional gas-powered engine is a front trunk. More commonly referred to as a 'frunk,' this storage area provides ample room for plenty of items such as 3 coolers ,luggages, or a toolbox. In the rear, you'll find the bed of the truck which gives Lightning owners 52.8 cubic feet of room in the bed. Additionally, the tailgate of the Lightning provides owners with an available work surface where they can do anything from cut some 2x4s or check on some plans for a job.
Interior Styling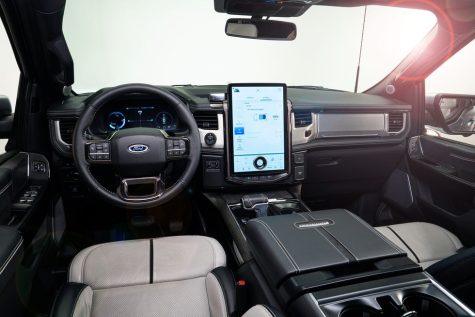 Like its shell, the F-150 Lightning has almost the exact same interior as the gas-powered F-150. One striking difference is that the upper trim levels of the Lightning (Lariat and Platinum) offer a vertical infotainment screen whereas the Pro and XLT models have the traditional horizontal screen. The horizontal screen ranges from 8 inches to 12, and the vertical screen is 15.5 inches. Another difference in the vertical screen is that there is a physical volume knob, while all other controls are digital.
Standard on the Pro and XLT model Lightning pickups is Ford's Co-Pilot360 2.0, which includes Dynamic Braking, Forward Collision Warning, Pedestrian Detection, and many more safety features that are now becoming standard on newer vehicles. Additionally, a backup camera is standard, though a $1,950 upgrade to a 360-degree camera is available with the Tow Technology Package that is offered.
Overall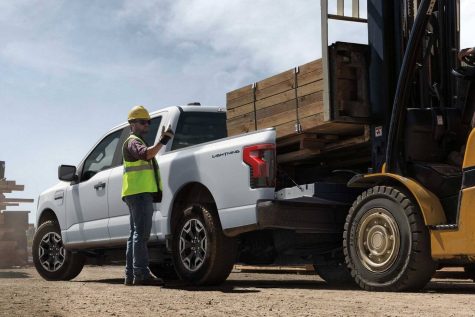 With a wide variety of options to choose from, Ford's F-150 Lightning is likely to be a success in the electric vehicle market. Offering several safety features, it may just become the next family vehicle that offers practicality and comfort all-in-one. Reservations for the F-150 Lightning are open, and custom builds are available as well. See your local Ford dealership for more information on the Lightning, or to place an order.