Kirra Polley Signs with NSU
Five days a week of practice with two games each weekend – this is the life of MIA's very own Kirra Polley.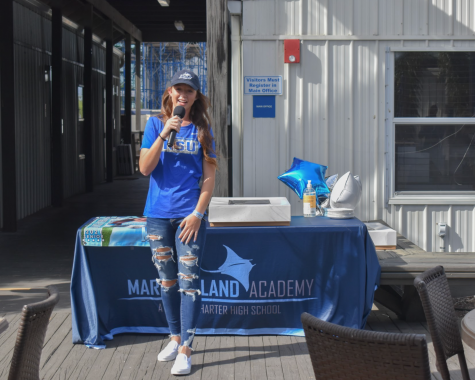 On Wednesday, January 25th, Polley signed a Letter of Intent to play for Nova Southeastern University, a NCAA Division II school located in Davie, Florida. The four-year starting goalie had been a key player Marco Island Academy girls' soccer team and had finally taken the next step towards her college career. 
As a little girl, she found her passion for the sport after attending a college game. She said, "I went to an FGCU game and realized I wanted to be out on the field and play at that level." Ever since, she has made strides on the field and has created a name for herself not just in her community but across state lines. 
Kirra's passion for the sport rooted itself into almost every aspect of her life. She explained the sacrifices she made as a child when she "would be gone on the weekends," and would miss out on get-togethers with her friends. Her motivation to play started in 8th grade as she started traveling to the west coast for soccer on a weekly basis. This motivation and drive is what continuously sets Kirra apart from all other players, she is ready to work and she is ready to win.
Kirra mentioned her grandfather, her biggest mentor in life, and his impact on her as a child. She explained how he was always by her side and had provided continual support for her as a child and growing player. She said, "he was always my biggest supporter, and even when I was little he would come to my games when he could." Her grandfather passed from Alzheimer's in April but she knows his lessons will help guide her through her college journey as a budding player.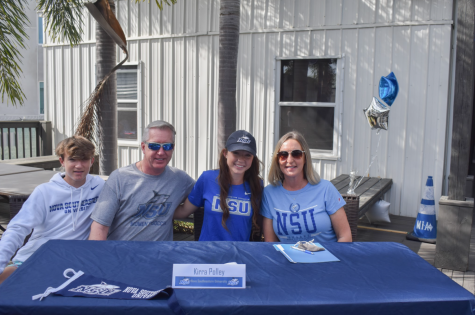 Kirra explained how her parents "loved the scholarship from academics," and how "close to home" the school really was. As she described her relationships with the players at her future school she recalls how she once, "got a flat tire … and [a teammate's] dad had to come to help," it's this family-like atmosphere that really drew her to her final commitment. 
Kirra noted how she had to list out the pros and cons of her two schools and explained how Nova Southeastern University provides a much better academic program for her future degree. She plans to attend college and major in a pre-med variation to become a nurse practitioner or a physician's assistant. 
Her community at Marco Island Academy gathered at her signing to show their relentless support and excitement for her commitment. Her entire team with her parents and coaches came out to the Champagne Pavillion to celebrate. Michael Butler, an attendee of the ceremony said this, "For her, I felt immense pride as well as for the school and as somebody who had his own signing day, I remember how I felt about it and I was just proud." 
As she reflected back on her time as a student athlete, she regrets nothing as she says, "everything I've done has got me to this point." There is no doubt that Kirra Polley is a budding player and one to keep your eyes out for. Her motivation and genuine compassion for others is clear and she said she's just, "excited for the experience because I've wanted for this for so long … ever since I was a little kid."
She offered some advice to young players hoping for a college career. She advises to just "put yourself out there and don't be afraid to stand out. Don't hide behind people…"