VELOCI(RAPTOR) v. T-REX
Ford's Built Tough F-Series pick-ups have held the throne of America's best-selling Pick-Up for 43 years now, but that may be coming to an end. Fiat Chrysler's Ram pick-ups are pushing their way to the top, surpassing General Motors's Silverado, as America's second-best-selling vehicle. With high-performance off-road variants of both Ford and Ram's light-duty pick-ups, it's tough to determine exactly which company will take the throne this year.
Initially revealed at the 2016 Texas State Fair as a concept truck, the Ram 1500 TRX is fuming with horsepower and torque. Coming in hot with a supercharged 6.2L Hemi V8 engine pumping out a whopping 702-horsepower and 650-pound feet of torque, the all-new 2021 Ram TRX has set the stage and made its name, already claiming Texas's Off-Road Truck award. Starting at a base price of $71,790, the TRX comes standard with the powerful Hemi V8. However, a plethora of additional features and packages can boost the price up to well above $100,000. Is it really worth it though?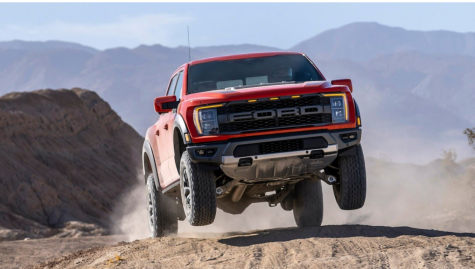 Ford's response; the all new 2021 Ford F-150 Raptor. With it's first generation beginning in 2010 and lasting through 2014, the Ford SVT Raptor was the first fully-capable off-road vehicle that a consumer could buy straight from the factory. It made a name for itself, equipped with an improved suspension set up over the standard F-150 and with a decent 6.2L V8 producing 411-horsepower. It also came standard with 11 inches of ground clearance up front, and 12 inches in the rear. The second generation lasted from 2017 to 2020 after a 3-year hiatus from 2014 to 2017. This Raptor was equipped with Ford's 3.5L EcoBoost V6 engine, but twin-turbocharged. In total, this pumped out 450-horsepower with 510-pound feet of torque and had an increased ground clearance of 13 inches in the front and back.
With Ford's F-150 now being produced with an available Hybrid engine, some consumers wondered whether the new Raptor would have this option as well. Thankfully, the 4th generation Raptor will not be going green, rather the 3.5L twin-turbocharged V6 is being carried over to the next generation. It's uncertain whether the new Raptor will have more power than the outgoing generation, but considering the performance of the 450-horsepower and 510-pound feet, the little V6 still stands pretty strong. Not strong enough though.
Still holding its spot as a fully-capable off-road vehicle from the factory, the Ford Raptor is just not enough to compete with Ram's supercharged TRX. Ram has made sly nudges to Ford in their new TRX, with one in particular being under the hood. Located under the plastic engine cover, an embossed image of a T-Rex eating a Velociraptor can be seen. It's a cheeky little nudge, but it shows that Ram's TRX means business.
Raptor fans are disappointed with Ford's decision to continue production of the Raptor with only the twin-turbocharged V6, but are hopeful for the future. The second generation Raptor had a base price of $53,205 with a fully-optioned variant priced at just under $80,000.
It's uncertain what Ford's price for the 2021 Raptor will be, but Ford isn't backing down from the competition. Rumors have gone around about a possible return of the V8 option in the near future, and it looks like it has been confirmed. The upcoming Ford Raptor R will feature a supercharged 5.2L V8, pumping out an expected 760-horsepower. The blue oval says that they'll have the V8 available for the 2022 model year.
Expect several side-by-side comparisons of the TRX and Raptor in the near future, but don't expect anything close. Sorry Ford fans, but Ram's got it down this year. If Ford keeps its promise of a V8 for 2022, then we should see a very close comparison. But until then, the TRX has the throne.