Hometown Heroes: Val Simon
Several years ago, Val Simon was looking for a job in Racine, Wisconsin. Every day, she would apply to three jobs, in hopes to land just one. One day, she was driving home from an interview, and saw a local newspaper, the Racine Journal Times, on the corner. It was still small at the time, so she decided to go in and have a look. She applied there and she got the job, making this her first newspaper job. Since then Mrs. Simon has been working for a variety of large daily and small weekly publications both independent and corporate owned entities. She fell in love with journalism, and 11 years ago, she created the Coastal Breeze here on Marco Island Academy. 
She especially enjoyed that being a journalist does not require you to be committed to one specific place. Mrs. Simon loved that you could be anywhere in the world and still do this job. Journalism allows you to write about anything that you have an interest in. It provides a place for journalists to find their audience. 
"
"If you can make people feel a bit better after interacting with you than they did before, you will go far.
— Val Simon
As big newspapers continue into a decline, smaller, community focused papers like the Coastal Breeze have retained their audience. As more people have transitioned to online news forms, less newspapers were being sold.  The convenience of online news outweighed that of a printed copy. Mrs. Simon feels that smaller newspapers started to "fill the void." 
Newspapers are always evolving, from the past, to the present, and into the future. In the past, newspapers have been the only source of information for people and were a true necessity for news coverage. Today, newspapers have completely evolved into somewhat of an online revolution. Mrs. Simon continues to play a vital role in keeping her newspaper alive. She focuses on investing time into her community, especially into finding students that could become the future of journalism.
Val Simon has assisted The Wave since its infancy. The students at Marco Island Academy did not have access to software or funding that would allow them to print the newspaper, and in response, Simon kindly opened the Coastal Breeze office to The Wave editors so they could finalize their paper. At least once a week, students would go there and perfect the layout. She would even pause production to make sure that the students were able to have the time they needed. Because of her dedication, the journalism staff of The Wave expressed interest in awarding her with a token of appreciation. On Wednesday, January 6th, Simon came to Marco Island Academy to meet with the Editorial Board and their advisor, Mr. Keith Scalia. 
During her visit, she offered advice to the students who write for The Wave. She relayed the importance of being open-minded and dedicated, especially for students who have an interest in journalism.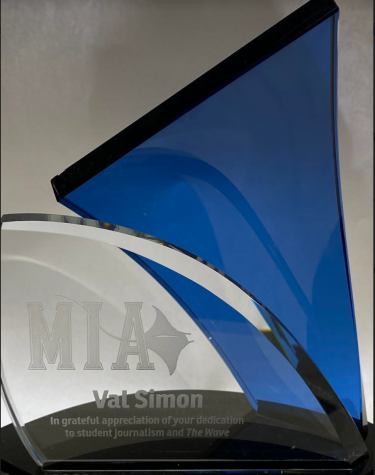 If you have a passion in a certain area, she advised to "go for it. It's not a lifetime commitment…" Simon explained that journalism covers a variety of topics and material to write about. She added that if you have any interests, you could most certainly make a living writing about it as a journalist. She then recalled some of her experiences in her tenure working for the Coastal Breeze. Subsequently, Simon was presented an award for her role in the publication of the print variant of The Wave. 
In the last few years, online papers have really taken to the forefront of the journalism scene. However, this is of no concern to Simon. She feels that since many newspapers have migrated online, this leaves a lot of room for smaller publications like the Coastal Breeze to find their market. 
She noted that running a paper now is very different than even ten years ago- "now you have to have a website, you need to have a Facebook page – you need to reach the other age groups." But if you can evolve and take the right steps to reach varying audiences, you can grow a following, just as the Coastal Breeze has.
Mrs. Simon has certainly left her impact on The Wave. Marco Island Academy is eternally grateful for Val Simon's dedication and our strong partnership with Coastal Breeze. As time progresses, The Wave staff looks forward to the publication of their sixth volume and their continued cooperation with Val Simon.