Building MIA…
The construction of the new Marco Island Academy has made great progress through this pandemic. The idea of a new school had been in the works for a while. Construction had just begun before the coronavirus broke out, but a global pandemic didn't stop the progression. 

The building itself is expected to be completed at the end of February next year. That is only counting the actual building. Inspections, furnishing, and much more will all still have to be completed. 

The coronavirus pandemic has in fact added to the progress of the construction. 

"Everyone correlates the pandemic as a negative," explains Miss. Scott, the Principal at MIA. "I didn't want to finish the year away from the kids, but the construction hasn't stopped, so the pandemic is more of a positive. It has allowed the future to flourish."

Mr. Ray, the Dean of Students, explains, "They've been able to do some things since we aren't on campus, so everything there has been really positive."

It seems that the most difficult thing being faced at the moment is having to be away from the school and the students. With online school in session, the students and staff will no longer be able to experience the construction during the day. 

Communication is something that allows plans to be put into action. Many things have become difficult without being able to talk face to face and figure things out. 

"We all want to be together working, but communication on a computer isn't the same as being together and sharing the same document," says Miss. Scott. "I'm still all about face to face and being together; the pandemic has taught us that too," she continues. 

Having meetings through a phone or computer restricts the ability to read body language. This also makes it harder to get a point across when everyone else is trying to do the same. There are other factors, such as everyone being silent, that make it harder to achieve the final goal. 

Looking past the hardships of construction, there has been a lot of good news. 

Mr. Ray explains, "Obviously, the good news is that it hasn't been stopped or slowed. They've been able to keep going." He continues, "You can actually see it now, it's real, the foundation has been poured. It's becoming a lot more tangible each day."
There have been workers on site everyday, making more and more progress and working their hardest to get the job done.
The students and staff at MIA are what makes the school the way it is. Having to end the year digitally is hard for all grades, especially the seniors. The construction of the school is something to view as optimistic.
As Mr. Ray explains, "It's just sad not being able to finish out the year with the kids, but the flip side is you are seeing this building going up. It's bittersweet."
Miss. Scott also mentions, "I think this building is an answer and a gift and it speaks as a tribute to all the kids. When I saw the wall, it really speaks to the beauty of the school."
People seem to care a lot about a school being built, which is why so much has been completed the past few weeks. Miss. Scott explains that workers are out there until almost 7 o'clock at night finishing up the job.
"In the middle of all this crisis, they value the work they have and their job. It matters to them and it matters to me, so when I walk by, I thank them. It feels like a blessing because it seems to matter to everyone on the job," states Miss. Scott. 
Regarding the construction, everything seems to be going well. Visible progress has been made and there is still so much more to come. Even though the end to the 2019-2020 school year will be online, the new Marco Island Academy is looking promising.
About the Contributor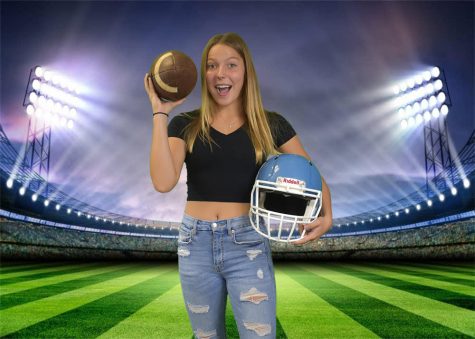 Caitlyn Sadofsky, Sports Editor
Caitlyn Sadofsky is a sophomore at Marco Island Academy. She went from being called "freshman" to the Sports Editor for The Wave. To stay involved,...