Changing for the Better
Life after high school for Olivia Scarpelli is nothing like what she had expected it to be. 
Olivia graduated from MIA in 2017 excited for her future career as a nurse. She thought she knew exactly what was ahead of her, that she had found the people that she would be surrounded by for the rest of her life. When entering college at FGCU, she realized that all of her expectations were going to change. 
College is always a big change from high school. It is where you learn to live in the real world, taking a step towards independence.
"I went from having my parents to cook, clean and help manage my time to having to do everything myself," says Olivia. "College has really helped me find that balance between isolating myself and giving up every part of myself for other people." 
Not only has college made her a more independent person all around,  it has also taught her to find herself without the influence of others. She has also had to learn to manage her time around all of the new things and people in her life. 
"Being on my own has been something I have been anticipating my whole life and I have loved every second of it," she said.
Though college is always a big transformation, Olivia has enjoyed everything to come from it. MIA had also been a big help in preparing her for college. Even though her time at MIA was short, she felt as though the MIA classes and teachers had truly prepared her for college. She explained that the teachers made sure their students enjoyed the lessons while 'being set on seeing their students succeed.' 
"This all really helped me once I got to college because I had already stepped out of my comfort zone so heavily just a year before." 
"Three years later and nothing I thought of myself is left," said Olivia. When trying to pursue the career of being a nurse by taking classes in the medical field, she realized that it wasn't what she wanted to do. She also had to come to the conclusion about the people she thought would be in her life forever. 
"Turns out they were holding me back from my whole potential," she explained. One of the best things she has done for herself is learning to let them go in order to find who she really is. As her relationships changed, so did her major. She is now a marketing major and is hoping to go into sales. 
Another big thing in Olivia's life is cheer. After moving to MIA, she realized that college was coming soon and she needed some sort of extracurricular activity to involve herself in during college. 
"With my gymnastics background it would be an easy transition for me. I wanted to get a jumpstart on that because I knew nothing about it, so I joined the cheer team at MIA," she explained. 
Joining the cheer team was probably one of the best things she has done in her life, she believes. She has made many great bonds with the people on her team and she even gets the chance to cheer alongside her two best friends.
"Goofing off and cheering alongside them is unbeatable to me."
Outside of school and cheer, Olivia doesn't have much free time. When she does, her favorite things to do are hang out with friends, even if it's just playing board games in her living room. 
"My sister and her family live about 10 minutes away from me so I go see my niece and nephew," she explained. Olivia loves her family more than anything and having them live right down the road is such a blessing for her.
"With all of the highs and lows that have been thrown at me, my future is not what I thought it would be, but I would not change how it is turning out and I cannot wait to see where I end up with the path I am on."
About the Writer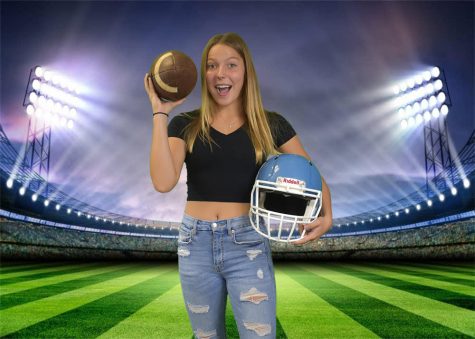 Caitlyn Sadofsky, Sports Editor
Caitlyn Sadofsky is a sophomore at Marco Island Academy. She went from being called "freshman" to the Sports Editor for The Wave. To stay involved,...