Are you looking for that retro ice cream taste? Mr. Bentley's ice cream is crafted the way it was back in the 1950's– creamy, buttery, and rich!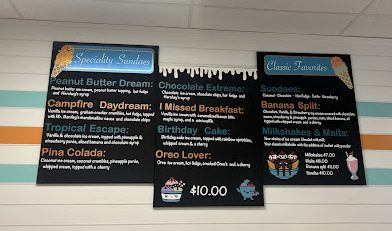 Mr. Bentley's Homemade Ice Cream opened in April of 2023. Located in the Marco Town Center of Marco Island, Florida, the adorable ice cream shop offers that small island, vacation feel, attracting the attention of tourists and residents alike.
The owner, Charlie Muntwyler, also owns the Brewery, a popular restaurant across the street from Mr. Bentley's. Considering the Brewery is known for its craft beer, Muntwyler wanted to branch out and experiment with craft ice cream. Currently, five of our very own Marco Island Academy students work at Mr. Bentley's. Open from 12 PM – 11 PM, the homemade ice cream shop has been a hotspot for MIA students. 
Mr. Bentley's is family-friendly and has mouth watering options for individuals of all ages. The ice cream shop offers ice cream cookie sandwiches, ice cream nachos, milkshakes, malts, sorbet, soft serve, and more! If you spent a long day at the beach and are searching for a sweet treat to cool you off, Bentley's is the place to be. As soon as you walk in, your eyes are met with a large menu consisting of the flavors of the week, which are rotated weekly. Every week you can try something new!   
Do you have an allergy? No problem! For customers with diet restrictions, Mr. Bentley's offers a variety of allergy-friendly options, including gluten-free, dairy-free, sugar-free, nut-free, and vegan flavors. Each flavor on the menu is labeled with its designated star for different allergies. If you have an allergy, be sure to check out the color-coded stars next to your favorite flavors – there are choices for everyone!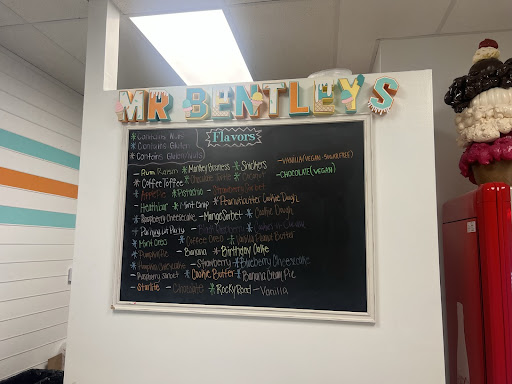 Regarding customer satisfaction, Mr. Bentley's mission is to provide customers with the highest quality ice cream. The shop's ice cream is locally made and supplied by The Naples Ice Cream Company. Mr. Bentley's ice cream is 17% butterfat, consists of all natural ingredients, and contains no artificial flavors. Mr. Bentley's refuses to use unhealthy dyes, opting for healthier alternatives. For example, beet juice is a replacement for dye, as seen in the "Starlite" flavor. With healthier options and a welcoming atmosphere, Bentley's will leave you feeling satisfied and guilt-free! 
Did you miss breakfast this morning? Don't worry! Mr. Bentley's delicious "I Missed Breakfast" specialty sundae will fill your stomach and satisfy your sweet tooth. Vanilla ice cream topped with maple syrup, caramelized bacon bits, and a mini waffle? Yes, please. 
When asking Ava Tobiason, one of Mr. Bentley's shift managers, what their best selling ice cream flavor is, she answered: "Our best seller is 'Parking Lot Party.' When customers ask for a recommendation, this is our go-to. 'Parking Lot Party' is a unique mix of vanilla ice cream, caramel, chocolate fudge, Oreos, and heath bars. Samples are unlimited and free!"
MIA Student Workers' Favorite Flavors: 
Ava Tobiason (shift manager): "Birthday Cake" or "Peanut Butter Cookie Dough" 
Jenna Golec (shift manager): "Parking Lot Party" or "Cookies and Cream"
Jaydn Pschigoda (employee): "Peanut Butter Oreo"
Chelsea Sottile (employee): "Mint Chip" 
Jenna Ragan (employee): "Cookie Butter"