It's a Tuesday, and the school is buzzing for the home volleyball game. Or, it's a Friday, and the school has its first home football game. All the football players are hyped, as they are told "good luck" from students and teachers. This is something that happens almost every week in my high school. I am an athlete, however I don't play volleyball and I do not cheer. I am a part of the swim team.
Here at Marco Island Academy we have six girls that swim for Lely High School. Everyday after 3:17 we travel up to practice in Naples to spend our afternoons swimming. 
We have meets almost every Tuesday and Thursday through the months of August to October, and for the past two years have qualified to compete at State Championships and have finished 9th in the state.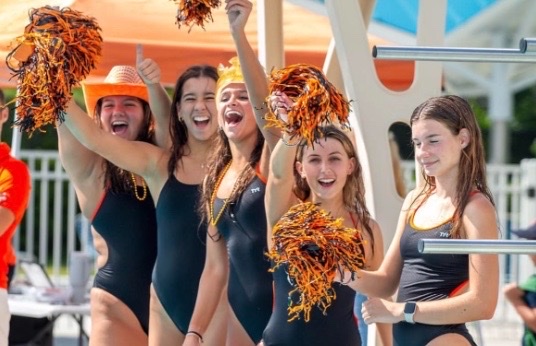 Dual meets, typically on Tuesday and Thursdays, are when two teams come to compete against each other. This year Lely has mainly home meets at our pool in Naples. However, we have several away meets as well, which include traveling to Barron, Estero, and Immokalee. These away meets are much more fun, and typically less stressful as they focus on motivating, supporting, and cheering on our newer swimmers. 
However, bigger meets such as districts, regionals, and states that you must qualify for, are the most significant meets of the season. One of these larger meets was in November 2021 in Stuart, FL. When a group of girls (Caelan Burt, Loren Fernandez, Emma Nash and Mia Witthoff) qualified in the 200 freestyle and 400 freestyle relay, the team of four broke the school record from 2003.
MIA has had a swim team in the past, resulting in two of their swimmers continuing their athletic career into college. In 2017, MIA had a team of four girls and two boys. Two of these girls went on to swim in college. One went to Lynn University and the other went to UWF and later on transferred to FAU. After these swimmers graduated in 2019, the MIA swim team has faded into dormancy. The current team that represents MIA through Lely hopes to see a future with MIA where they have their own home team. 
Being a year round swimmer, I would have to say high school season is my favorite. My favorite part about high school swimming is being able to chant to the other team, and being able to see and hear my teammates and coach screaming and cheering me on. The short three month season allows me to push myself to do better; because at the State Championship, is when college coaches recruit their up and coming swimmers. Although we may not have the cheerleaders to cheer us on, or a student section, our meets can get pretty exciting.
So, come out a cheer on your swimming rays!