Where Are They Now?
Megan Sweeney – Class of 2021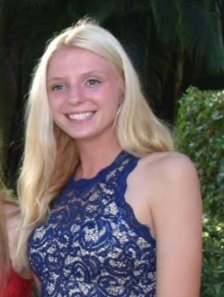 Megan Sweeney is a 2021 graduate from Marco Island Academy. After her time at MIA, Megan attended college at FSW, and is currently on track to graduate in the spring. Currently, Megan is working with the Collier County Sheriff's Department, but is also looking into paramedics/EMT work. Working in the sheriff's department alongside her, Megan's brother is said to have helped inspire her career choice.
Megan says that MIA has certainly helped her in her efforts to discover what she wanted to pursue as a career. She states that the relationships she built while attending MIA, as well as the educational and sports programs she was involved in, like basketball and volleyball, were some of the many factors that helped determine her route. She also credits the classes she took, explaining how they helped shape her interest in physical activity and leadership.
Since graduating, the most surprising change Megan has faced is the educational and career opportunities she has been able to experience. Similarly, with the financial support of her work, she has been able to expand her education while continuing to grow within her career. So far, the biggest shift she has been impacted by was her work hours, due to working 12 hour night shifts on top of attending college during the day. However, through this adjustment, she has learned better time management skills, as well as become more detail-oriented. Regarding her time in high school, she praises that MIA has done a great job in preparing her for this big step.
To the future and current students at MIA, Megan says, "Put 100% effort into everything, and don't stress about the things you can't control." She hopes that current and future students enjoy their time at MIA and take advantage of the opportunities it has to offer.