Praise for the Lady Rays
Marco Island Academy's Girls Varsity Soccer team has accomplished quite a lot this year, but what really goes into their success? The key to their success are the practices that are held every Monday through Friday after school. Their most recent soccer game was against Donahue Academy on January 27, 2023 . Though this game wasn't just some soccer game, this game was a district game determining if they could go to the semi finals or not. To prepare for this intense schedule the team is working on teamwork, and their dribbling skills. 
The Rays have had quite the successful season this year. Playing against Donahue for their first home game, the Rays won 3-2. For the PCAC semi-finals the Rays won 1-0 against Donahue as well. Overall, they won 7 out of 14 games, with 6 losses and 1 tie. Coach Omar Rodriguez and Assistant Coaches Jax and Hailie helped guide the Rays through a successful season.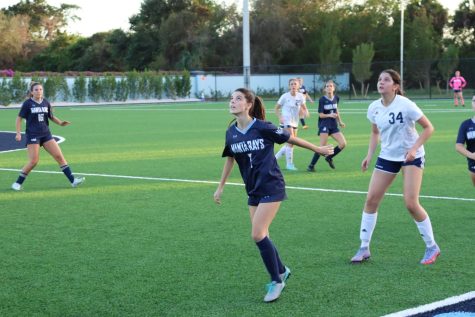 The Rays have attained a lot this year. They won their first home game against Donahue Academy and went on a 6 game winning streak. Unfortunately, near the end of the season they lost their PCAC game but they held up a good fight. They lost 2-0 against Donahue Academy, but they held a strong front against Donahue. For their district game, they also went against Donahue Academy, and unfortunately they fell short both games. 
The main roots of our Lady Ray's games come from good teamwork and skilled players, without this core, the team wouldn't be where it is today. The team's star goalie, Senior Taylor Drott, is a well accomplished goalie with over 95 saves this season and an average of 6.8 saves per game. She is one of four team captains that have carried this team to many wins. 
The Team captains consist of Taylor Drott, Helen Totten, Virginia Lowe, and Ava Cartwright. Sophomore Helen Totten holds the team's defense together very well, she keeps the defense's head in the game. Another great defender is Virginia Lowe, a senior captain. She's had 8 shots on goal, 1 goal, and 1 assist all throughout the season. The last team captain, Ava Cartwright, a junior, has 9 goals, 21 shots on goal, and 6 assists over the entire season.
The Lady Rays have been a very successful team this year, as they have made many different accomplishments as a team and individually. They were able to pull off a 6 game win streak with a 54% win rate by the end of the season. Many players have scored their first goal this season, and some even joined the team to play soccer for the first time. The Lady Rays have come a long way this season, hopefully they can top these statistics next season.