DCON Dominance
Seven of Marco Island Academy's Key Club members traveled across the coast to Daytona Beach, Florida to attend the 84th annual Florida District of Key Club Convention, also known as DCON. Over 800 members attended representing the 337 clubs in Florida, the Cayman Islands and Turks and Caicos. Key Club Advisor and Humanities teacher, Lori Galiana, led the following members throughout this event;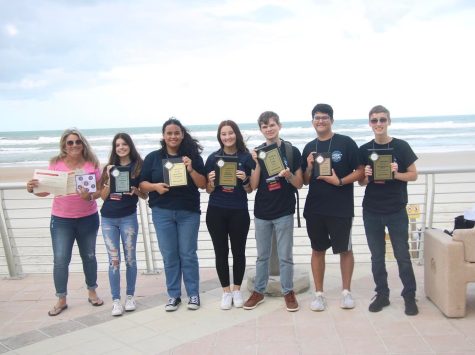 Phoenix Gutierrez (Senior)

Isabella Burgos (Senior)

Sommar Kashey (Junior)

Makayla Hendrick (Sophomore)

Austin Hendrick (Sophomore)

Grant Tirrell (Sophomore)

Tyler Clifford (Sophomore)
The group was also accompanied by incoming Co-advisor Mr. Ed and Mrs. Laura Domonte.
After a lengthy charter bus ride with other schools from Collier and Sarasota Counties, the group checked into the Hilton Daytona Beach Oceanfront Resort. The convention's events took place right across the street at the Ocean Center Convention Complex. On Thursday evening, the group attended the Opening Session, which is where an introduction to DCON was given and all the candidates running for a higher office position presented their speeches. Afterwards, there were multiple meet-and-greet rooms open so people could get to know each other. The MIA Key Club joined the 'Open Mic Night' room and even performed karaoke.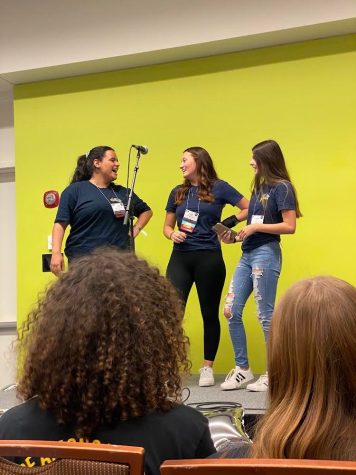 On Friday, attendees were given the opportunity to attend two workshops which had the purpose of teaching skills that would build character and improve leadership. When deciding which workshop to attend, the group had to choose what they wanted to learn, as some workshops were aimed at specific officer positions. After workshops, the group attended caucusing sessions for state elections. During caucusing, candidates who were running for higher office would be open to questions regarding how they are assets to the positions they are running for and how they will make a difference. Afterwards, two delegates from each club attended the House of Delegates to formally vote. Later that evening, the Entertainment Assembly was held which included a talent show and continued to reward clubs for their hard work through the year. 
On Saturday, DCON presented a service fair which helped spread service ideas from one club to others. Club representatives took to the stage to address how their club made a difference in their community. Additionally, club videos, t-shirts, and posters were presented for everyone to see. Marco Island Academy's Club Video, made by Grant Tirrell, won first place in the Florida District and is being sent to Key Club International Convention for competition.
After the service fair, attendees went to two more workshops. Three of MIA's members also attended a workshop that discussed various personality types and how they cooperate. The Kiwanis Family Session that shortly followed mentioned how to get involved more with local Kiwanis clubs and how to start a Builder's Club, which is essentially a Key Club for middle school.
In the evening, everyone attended the formal Governor's Banquet. During the event, more awards and scholarships were presented. As a matter of fact, Phoenix Gutierrez represented Marco Island Academy's Key Club when they won the "Distinguished Club Diamond Level" award, which is the highest given award. Of the over 337 clubs throughout the state of Florida, only nine were awarded this title.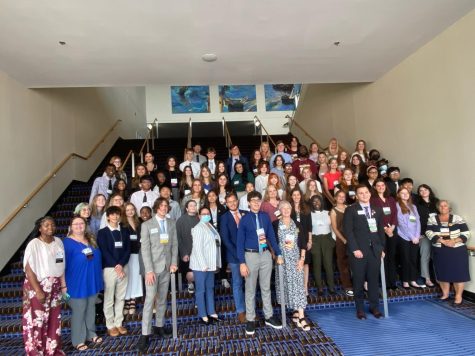 In all, the Marco Island Academy Key Club won an impressive list of awards that reflect the long year of hard work and dedication by all of our members:
Distinguished Club Diamond Level

Governor's Citation for 18 hours of service per member.

As of May 1st, 2022, MIA's Key Club volunteered a total of 2,243 hours. 

Club Membership Growth for more than 6% growth.

1st Place Gold Division Club Video promoting Key Club

1st Place Gold Division Kiwanis Family Involvement for regular Kiwanis interactions.

1st Place Gold Division Single Service for the Wynne's Warriors campaign

1st Place Gold Division Trick or Treat for UNICEF Fundraising for raising $800

2nd Place Club Non-Digital Poster

3rd Place Gold Division Key Club Service Award
Marco Island Academy's Key Club is grateful to the Marco Island Kiwanis Club for leadership and financial support, especially Mrs. Marie Lynn McChesney, our Kiwanis Advisor, who can always be seen bringing treats and sparkle to our school. We also have a new Co- Sponsor, Mr. Ed Domonte, who was in Key Club in high school and who will help support Mrs. Galiana and our 84 members as we continue to grow. We are looking forward to next year.