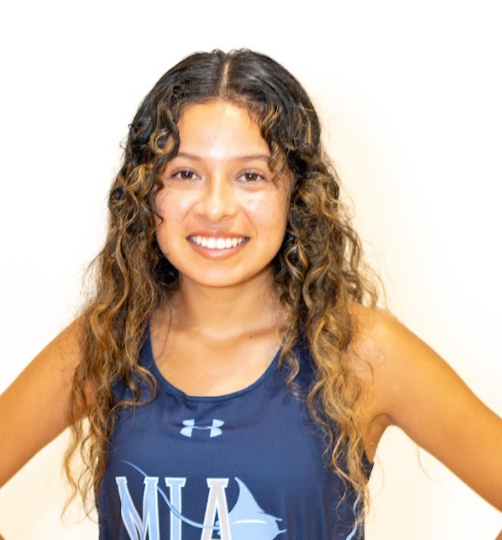 Senior Spotlight: Yessenia Martinez
Yessenia Martinez is a senior at Marco Island Academy. She joined the cheerleading squad freshman year, and has been continuously involved ever since. She decided to join cheer because she wanted to be part of a team. She said she was a "freshman without many friends, and thought that cheer would help me break out of my shell and meet new people."
Throughout her time on the team, she made a lot of memories with her teammates. One of her favorite memories is when they took a trip to the University of Miami for a cheer camp. To her, "being on an away trip with the team really helped the team bond and get to know each other. Also the chocolate almond milk in the dining hall was just the cherry on top." 
There are many aspects of cheer that Yessenia will miss when she graduates. Over the years, she has become very close with her teammates, and has created a very strong bond. She says that they aren't just a group of girls who cheer at games, they are a family, and that she will "miss those girls!"
As well as being part of cheer, Yessenia joined cross country her sophomore year. She joined because "freshman year my track coach recommended it, I also joined the sport so I could stay in shape during the off season." Starting sophomore year, she was involved in this, and she has done it every year since. 
In her junior year, Yessenia said her favorite memory was from one of her meets. She was running and misjudged a puddle and stepped knee-deep in a pool of mud. Even though that happened, it was still one of her favorite meets. 
Besides sports, she has been involved in other school activities. This year, Yessenia is the Editor-in-Chief of the yearbook. She was part of the journalism class in freshman year, and was given the opportunity to see what the process is like to create the yearbook, and since then she knew she wanted to do that. She was also a part of journalism in her junior year, and realized that writing is not something she wants to pursue, but the yearbook is.
Next year, Yessenia will be attending Florida Gulf Coast University. She will be studying software engineering, as well as trying her hand at sports photography. She hopes that next year's students will learn from her, and she has some advice for them. "Be more involved than you think you are. You have to step outside of your comfort zone to grow."