MIA Students Advance as Laws of Life Finalists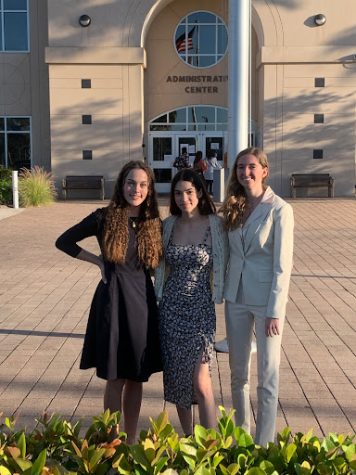 Recently, three upperclassmen at Marco Island Academy competed at the Laws of Life semifinals. For those unfamiliar, the Laws of Life competition is an essay contest by which the prompt revolves around the impact of role models in our lives. Senior Haylen Irvan, and juniors Isabella Portu and Kathryn Barry all advanced to the Laws of Life semifinal round, where they were afforded the opportunity to orally present their speech to a panel of judges. 
In regards to his student's performance at the competition, MIA English Instructor Keith Scalia stated that he was "very confident in both their essays and their oration. Bella, Kathryn and Haylen worked hard perfecting their delivery and the stories they shared were meaningful, moving, and unique."
After their participation in the semifinal round, the judges determined that Irvan and Barry would continue to the Laws of Life final round, serving as a monumental step for the MIA students, and the school as a whole.
Finalist Haylen Irvan explained that "the strength of my coach is what empowered me to read my speech in front of the judges. While it is a competition, I simply see it as yet another opportunity for more people to be inspired."
"I feel very fortunate to be a finalist in the 2022 Laws of Life Essay and Speech Contest," Barry said. "Years ago, I was a finalist and I have always enjoyed the inspiring culture of this particular contest," she continued. "I would like to thank Mr. Scalia for my development as a writer and Miss Scott for valuable guidance."
The Wave wishes the best of luck to both of the selected finalists. Both will attend the Laws of Life finalists banquet on March 31 where their placement in the final round will be announced.