The 2021 Met Gala: Revolutionary or Catastrophic
         This past Monday evening, The Metropolitan Museum of Art in New York City opened its doors to the 73rd year of The Met Gala and its guests. Since the very first "Met" or "Met Ball" in 1948, this annual event has been a spectacle in the world of fashion, mainly for its recognizability for featuring ornate, dramatic, and often obscure clothing, makeup and accessory designs. However, due to the spike in the everlasting Covid-19 pandemic, last year's Met Gala was unfortunately canceled, leaving admirers desperate to see their favorite icons walk the red carpet again. With the extra time given, we all expected to see the best out of the invited guests. No pressure, right? Staying true to tradition, a theme was decided which the guests were expected to follow. This year's gala theme:  "American Independence." What this meant exactly – was up to the invitees. Whether or not they followed through and truly grasped the Met Ball essence, is for the audience to determine. With that said, let's take a peek at the five of the most notable (or forgettable) 2021 Met Gala looks. 
Hunter Schafer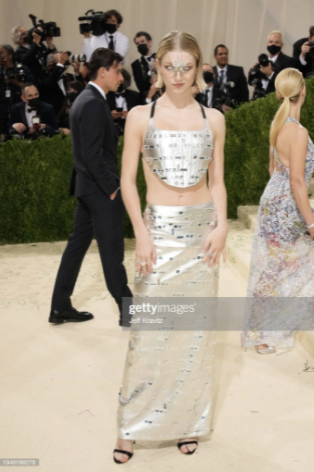 So far, we seem to be off to a very strong start. Hunter Schafer, the 22-year old starring actress of HBO's hit series Euphoria, arrived at the Met in a metallic silver two-piece set by Prada, and we're all obsessed. Shockingly, my favorite part of this look isn't her skirt, top, or even heels.
Hunter's makeup artist, Sandy Ganzer, finished the outfit off with an addition out of this world. Literally. Ganzer added the final touch to the look with a matching silver headpiece paired with white contact lenses. This futuristic, alien-like charisma taken on by Hunter was not only adored by me, but by many other observers as well. So the question is – did she hit the nail on the head, or completely miss? I feel it's safe to say that her team and her were right on theme. Now would anyone like to help me gather my jaw off the floor?
Emma Chamberlain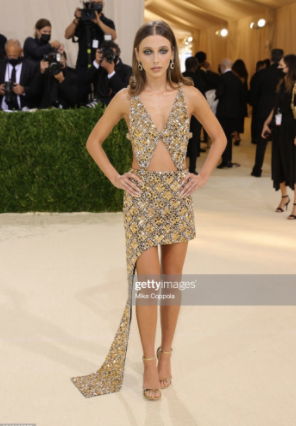 This year's Met Gala sparked much debate over the inclusion of social media influencers and personalities, including Youtube star Emma Chamberlain. Since starting her channel in 2017, Emma has gained a following of over 10 million subscribers. Many viewers questioned if she, as well as other internet influencers, really deserved a seat at an event as high-profile as the Met. Chamberlain, who recently shared her 20th birthday, has worked closely with Louis Vuitton ever since 2019, and made a grand appearance to the Met in a stunning custom Louis Vuitton dress, head to toe in gold. Was this dress absolutely gorgeous? Yes. The elegantly placed cutouts on the gown paired with a 60s-esque dark smokey eye and upturned middle part truly emanates American fashion. It's renovative of older, chic styles, while still maintaining the class of the Met Ball. Iconic. 
Timothée Chalamet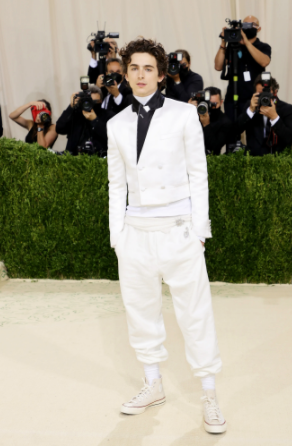 Co-hosting alongside Naomi Osaka, Amanda Gorman and Billie Eilish, Timothee Chalamet stunned the crowd with an assembly of designers on carpet. The young star paired a white satin Haider Ackermann jacket alongside a Cartier brooch. On the bottom, he teamed simple white sweatpants with classic white Converse. While many praised Chalamet for his simple and effortless charm, I can't tell if I actually like this look, or if I'm just craving canned ravioli. One last touch that I feel would make all the difference, is a bedazzled Vivenne Westwood chefs hat. 
Any takers? 
Kim Kardashian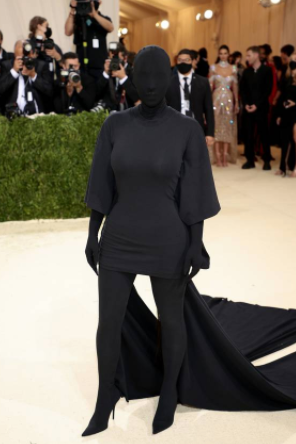 When Vogue editor-in-chief Anna Wintour was questioned about something she would never wear, she replied "head to toe black." So, that's exactly what socialite Kim Kardashian wore. (Literally.) That evening, Kim arrived accompanied by her designer Demna Gvasalia, who customized the entire look with Balenciaga. The dynamic duo won the crowd over with a powerful statement as they both arrived completely eclipsed in black fabrics and shoes. At first glance, this wardrobe choice seems rather dull. Followers criticised Kim via social media for her "lack of effort" dedicated to this year's gala. It can be difficult to praise an outfit in this obscure fashion, however Kim's hidden message behind her outfit is truly intriguing. Although Kim didn't show her face, all viewers and guests instantly knew it was her underneath. Was this just a coincidence, or could it have been an applaudable note to her impact made on celebrity culture? Either way, Kim's presence this year was a much appreciated balance between mystery and glam.
Addison Rae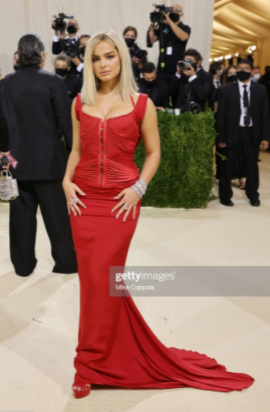 Addison Rae, a 20 year old social media star, gained her large following on the popular social networking app TikTok. By July of 2020, she had gained over 50 million followers on the app, ranking her the 3rd most followed account on the entire platform. Addison rocked a "vintage" Tom Ford gown, which she paired with ruby red platform heels, and a platinum blonde bob.Like Emma Chamberlain, Addison's attendance sparked over whether or not influencers met the qualifications (and standards) for an invite to the Met. Some argued that "TikTok Celebrities", an (often derogatory) term referring to well-known accounts on the app, shouldn't be classified on the same list as A-list celebrities such as well-known actors, writers, or artists. Many felt that guests like Addison and her TikTok co-star Charli Damelio, "didn't fit in" with the other invitees. As many chimed in their opinions on the matter, another question remained undiscussed. 
Was Addison on-theme? Let's just say Addison's attire was about as on-theme as 2003 is "vintage."
Given this ensemble of last Monday's surprises, did this year's Met Gala make up for the absence of 2020's, or were the guests and their outfits just as disappointing? Well, I suppose you really do win some and lose some. But if there is one thing we can all depend on, it's the promise that each Met Gala has its own unique treasures, and it's always a night full of entertainment.