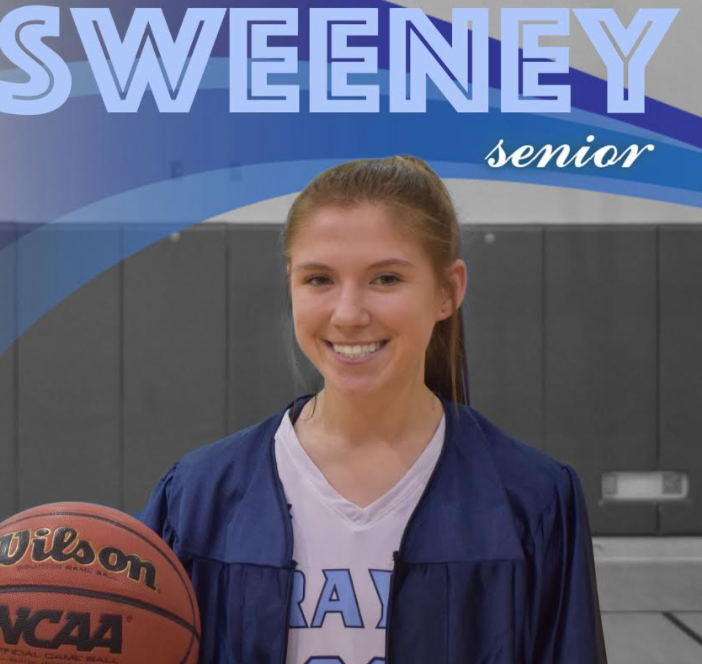 Senior Spotlight: Bridget Sweeney
Bridget Sweeney is one of MIA's seniors and a starter on the Marco Island Academy girl's basketball team. She started playing basketball in her sophomore year.
Megan Sweeney, Bridget's twin, joined cheer for Bridget, so in return, Bridget joined basketball for Megan. At first, it felt as if it was a chore and she didn't enjoy it, but as the season progressed, Bridget started to enjoy it and gained some amazing memories and friends. 
When Bridget started playing basketball, she often stood at the bottom of the court, clueless about what she was supposed to do, but now she is the team's key defensive player! Her favorite year of basketball has been her senior year because of the team's growth, "We grew as friends, teammates, and family." Sweeney went on to say, "Our communication and determination during the games reflected on everyone. I could tell we were here to win together and improve as players." 
Bridget reminisces on her long days of practice that would go from 3:45-7:30 at night, Bridget said these practices were her fondest memory. Bridget commented, "This is my fondest memory because practices and games are where I grew as an individual". When asked what she would change if she could go back in time, She wishes she could play her 2021-2021 basketball season over again without COVID-19 since basketball season would have kept going. 
Although Bridget is not able to pinpoint one particular achievement, she's proud of many moments throughout her high school career. Bridget's inspiration is her dad, and her favorite quote is from Wayne Gretzky, "you miss one-hundred percent of the shots you never make". He has taught Bridget to never miss out on life's opportunity and to appreciate every little moment. 
Once Bridget graduates she wishes to pursue a career in the medical field. She wants to go help those who are less fortunate. Bridget is going to miss Marco Island Academy especially the invaluable friendships she has gained from practices and games. Bridget has always been an incredible player and we know her success will continue on into the future.