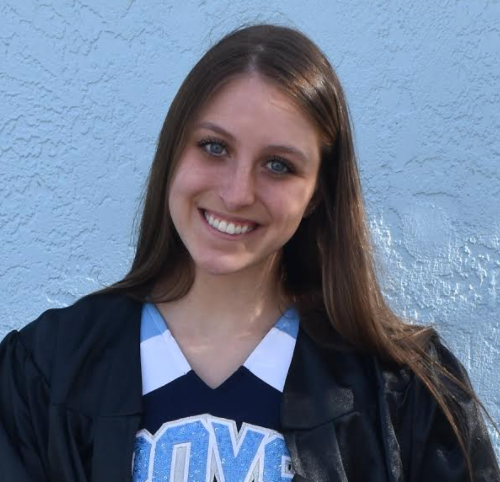 Senior Spotlight: Sutton Miller
 Moving to a new school and state, especially if you are entering your senior year is undoubtedly challenging but not for MIA's Sutton Miller. Miller moved from Kentucky to Marco Island and started her senior year at Marco Island Academy. 
Before moving to Marco Island she was with an All Star cheerleading team. During those 11 years, her team had won countless competitions and even National Championships. Having to leave all of that behind and start over again was difficult for Miller, but she chose to focus on optimism and to finish her senior year off strong. 
Miller first started cheering when a friend of hers started and she instantly fell in love with cheer and decided to give it a go. Now, the highlight of her senior year has been cheering for MIA at their basketball games. 
   Although she's only been at MIA for a short amount of time Mr. Butler, her English teacher, has left a strong impact on her. She said, "he was very welcoming" when she came into the school as a new student. She said that Mr. Butler has helped her improve her writing skills and helped her prepare herself for the next chapter of her life. 
 She plans to cheer in college as well. Miller said, "If I am given the opportunity to cheer then I will definitely continue my journey." She plans on going to Florida Gulf Coast University and going down the path of a pre-dental program. In ten years she plans to be working as an orthodontist.
When she is not cheering, she enjoys playing the ukulele. She first began playing when her dad bought a ukulele a few years ago. Since then they've both learned many songs and often compete on who could play better.
   When Miller is older she aspires to be like her father. He is one of the people that she looks up to the most because he is the most hardworking person in her life. "He is always happy and can bring a smile to anyone's face. He is driven and always puts others before himself," Miller said.
   A saying that she continues to live by is, "IBIY". It stands for "I believe in you". Her cheer coach from Kentucky would always tell her and her teammates that phrase. Before games, her coach would write the letters on their hands to remind them that they were more capable than they think. 
   Her favorite thing about cheer is the feeling of success. She said, "There is no better feeling than when all your hard work has paid off." Her passion for cheerleading has only grown and she continues to strive to be the best athlete that she can be.