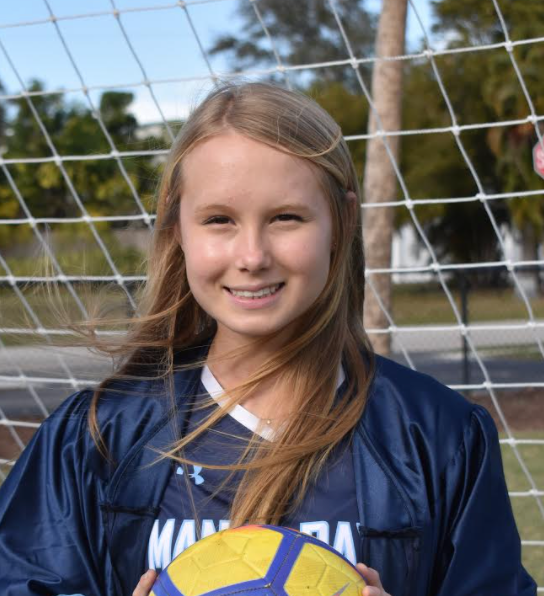 Senior Spotlight: Hailey Cartwright
When Hailey Cartwright was six years old, she started playing soccer and at age nine she began playing competitively. She was encouraged by a member of her community to join the team. Cartwright says she, "felt that due to my quiet nature, being a part of an organized team would be a good idea for me."  Now, in her senior year, she is one of the captains for the MIA girls soccer team. 
A motto that Cartwright continuously lives by is, "always stay humble and kind." As a child and now as a senior being kind has always been a priority for her. 
A highlight from her senior year was being named one of the captains of the girls soccer team and having the opportunity to play with a great group of girls. "My favorite thing about soccer is just overall being able to compete. I am very competitive by nature."  This season, so far, she's scored 43 points. On average, she scores 4.7 points per game. 
Through high school, she has had many people that she looks up to. The main two being her parents, they are hard workers and have accomplished many things working together. She also says that her parents spend a lot of time teaching both her and her sister life skills that will help make them successful. Her favorite high school teacher is Mr. Eder. She has had him for many classes and throughout the years has supported and encouraged her.
Hailey is still undecided on whether or not she will continue playing soccer in college. She has been given the offer to play but is still in the process of making her final decision. Cartwright says, "I feel extremely grateful to be given the offer." She plans to attend either FGCU or Ave Maria University. She plans to major in the area of health sciences and hopes to work with children in either occupational or physical therapy. 
Now that she is nearing the end of her senior year, she continues to live by the same motto. Cartwright says, "soccer has taught me that being humble is important because sometimes you win and sometimes you lose but staying constant in your attitude will help you go the distance."