MIA Boys Basketball Team Wins PCAC
The Paradise Coast Athletic Conference Championship pitted our Ray's against their biggest rival, the Shamrocks of Donahue Academy.  Having defeated Donahue twice during the regular season would make it all the more difficult to pull off the trifecta.  It was only fitting that the battle came down to the wire.
The Shamrocks looked confident and appeared to have a very solid game plan.  The Rays were rattled and only scored 6 points to the Shamrock's 17 in the first quarter.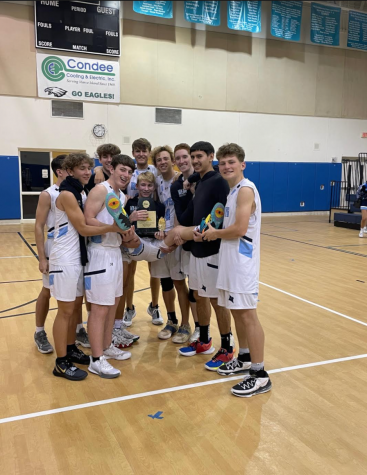 The Rays kicked it into gear in the second quarter, amping up their full-court defensive pressure.  The Rays outscored the Shamrocks by 13 points in the second quarter culminating with a deep buzzer-beater from Kevin Barry.  This left the score 33-31 in favor of the Rays at half-time.  The third quarter was another hard-fought quarter with the Shamrocks outscoring the Rays by two points, leaving the score tied to start the fourth quarter.
The fourth quarter turned into a game in itself. The battle raged back and forth until the Shamrocks went up 6 points with only 3 minutes left.  Coach Travis Barry decided to call a time-out to try to focus his Rays. The strategy worked and the Rays fought their way back with two crucial three-pointers from Johnny Watt.  This caused the Shamrocks to start fouling the Rays, which ultimately led to their demise. In the end, the Rays free-throw shooting brought them home with 4 from Kevin Barry, 2 from Kyler Howard, and 1 from Johnny Watt.  The contest ended with a final score of 66-61, which brought our men's team their second Paradise Coast Athletic Conference title.
The Rays left no stone unturned when it came to the stat sheet in this high-intensity game.  The seniors had phenomenal games.  Kevin Barry led all scorers with 34 points and had 5 rebounds.  Johnny Watt filled the ledger with 15 points, 8 rebounds, 4 assists, and 5 steals.  Kyler Howard contributed 9 points, 4 rebounds, and 6 steals.  Juniors Joe Reisinger, Tony Castillo, and Quintin Fitton showed out well with a combined 8 points, 11 rebounds (7 of which were Joe's), 3 steals, and 2 charges. The Rays also got some crucial minutes from Nick Smithem.
Coach Travis Barry commented, "I think this game exemplified how our players respond when faced with a challenge.  They stayed calm, focused and worked together to overcome.  I am very proud of the poise our players showed down the stretch."
With another trophy on the shelf and a record-breaking final record of 17-6, the Rays can look back with no regrets.  Seniors Kevin Barry, Johnny Watt, and Kyler Howard have excitement in their eyes for what the future holds.  Although the seniors will be missed, the rising Rays are already talking about next season.  Go Rays!