Rays Sting The Panthers
Our Rays basketball teams had strong performances again last Friday night against Cypress Lake. The lady's and men's teams both came out victorious over the Panthers. The Lady Rays had a final score of 55-33, and the men's game ended with a score of 88-73. This increases our ladies' record to 11-2 and our men's team to 13-5.
Our Lady's game started extremely close with very tough defense being played on both ends. However, towards the end of the first quarter, the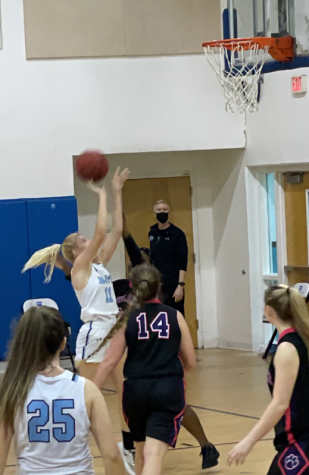 Lady Rays started clicking and sank some nice shots and got some easy layups. The quarter ended in a 12-4 lead for the Rays. Our ladies extended their lead in the second quarter, leaving the half time score 33-14. The Rays held a considerable lead throughout, resulting in ample playing time for all players.
Seniors, Megan and Bridget Sweeney, had nice stats across the board. Megan put up 23 points, 11 rebounds, and had 3 dominating blocks. Bridget had multiple deflections and steals. Juniors Cadence and Jocelyn Snover also put up nice stats. Jocelyn had 6 rebounds and 6 deflections, and steals. Cadence also had multiple steals. As the loan sophomore, I threw in 5 assists. Our four freshmen also had nice showings. Piper Noyes, Ava Tobiason, and Katelin, and Emily Reisinger, brought defensive intensity throughout the game.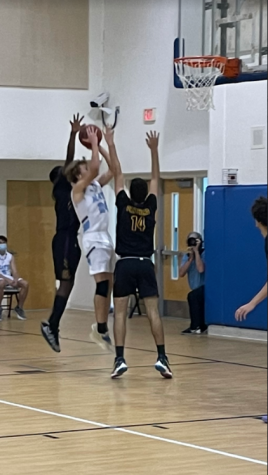 Our Men's team had a stunning performance. In fact, their first half was the best I have ever seen them play. The Rays pummeled the Panthers with an intense full-court press and notched 25 points in each of the first two quarters. While the Rays ran away with the score offensively, their defensive intensity shut down the normally fierce Panthers. What a difference a year makes, as the Panthers whipped our boys by 25 last season.
Our players lit up the stat sheet. Kevin Barry had 37 points, 11 rebounds, and 7 assists. Johnny Watt had 28 points, 6 rebounds, 3 assists, and 3 deflections and steals. Kyler Howard had 8 points, 9 rebounds, and 2 blocks. Joe Reisinger had 7 points, 11 rebounds, 6 assists, and 3 steals. Tony Castillo had 4 rebounds, 2 assists, and 3 deflections. Quintin Fitton also notched 6 points.
The Rays have an action-packed week ahead. The Lady Rays have their PCAC Championship game Thursday night at home. Their hopes are running high after failing to bring home the trophy last season. The ladies will then finish out their successful season up at Bonita Springs on Friday and back home against Oasis Saturday. The boys play up at Community School on Tuesday and have Bonita Springs and Oasis on Friday and Saturday. Go Rays!