A Fantastic Friday for Lady Rays Basketball
The Lady Rays had a phenomenal win on Friday against the Griffins of Gateway Charter High. This was the second time they faced the Gateway this season. In the first battle, The Lady Rays pulled out a narrow victory. However, in this game, they were determined to run up the score. In the end, the final score was 49-38. This improves the Rays record to 7-2.
The Rays went full force at the Griffins right from the start and quickly pulled away. Megan Sweeney won the opening tip when she batted the ball to her twin sister, Bridget. Bridget took it strong to the basket and then dished it back to her sister for an easy bucket. For the rest of the game, the girls went downhill at the Griffins and managed to swish nine 3-pointers. The Lady Rays kept a considerable lead the entire game with their strong defense and good shooting.
Coach Travis Barry said, "I was very happy with the aggressive nature with which our players came at them. They played inspired from the tip-off through the final buzzer. I could not be more proud of our lady's teamwork and camaraderie."
The Lady Rays rounded out the stat board with ease. Megan Sweeney continued her impressive rebounding streak, by snagging a hefty 21 boards. Megan also had 12 points, 3 assists, and 2 crucial steals. Bridget Sweeney's on-ball defensive skills shut down Griffin's best player for the entirety of the game. Cadence Snover's feel of the game was a huge factor in the Rays' success, as she threw 7 assists. Jocelyn Snover contributed from behind the arc, making 2 three-pointers, while also throwing 4 sweet assists. Kathryn Barry chipped in seven 3-pointers and 6 rebounds. The Rays' freshmen also had a nice showing; Piper Noyes had a great steal while Ava Tobiason and Katelin and Emily Reisinger were tough on the boards.
The Lady Rays have an action-packed week with games against Donahue Academy Monday, Everglades City Tuesday, Oasis on Friday, and Seacrest on Saturday. Go Rays!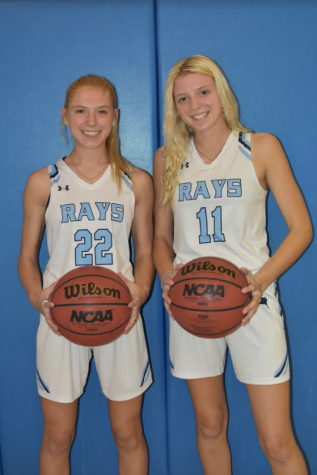 Bridget Sweeney left & Megan Sweeney right