Wild Winning Week for the MIA Rays
Last week was a clean sweep for the Manta Rays in their home gym.  The boy's team competed on Tuesday against The Village School of Naples which ended in a 86-49 Landslide over the Knights.  They also played on Thursday night against Oasis coming out on top with a 78-66 triumph over the Sharks.  This brings their record to 4-1.  The Lady Rays had their first two games of the season on Thursday and Friday.  Thursday, the ladies had an exciting overtime win against Oasis, which ended with a score of 44-41.  Friday ended the week strong with a victory against Donahue Academy Shamrocks beating them 57-26.  This brings the ladies' record to 2-0. 
Tuesday 12/8- Boys vs. The Village School of Naples
The boys started out fast and strong against the Knights, causing multiple turnovers for the Knights and resulting in strong layups by Johnny Watt and Joe Reisinger.  When the Knights started packing their defense in the lane, Kevin Barry lit them up from behind the arc.  Instrumental to their defense was Kyler Howard with numerous steals.
Impressively, every Manta Ray player scored.  Ryan Sweeney had a put back for his first points of his high school career. Noticeable stats were from Kevin Barry and Johnny Watt, who both scored in the double digits.  Barry scored 29 points and Watt scored 23.
Thursday 12/10- Girls vs. Oasis
This game was a barn burner to say the least.  Each quarter was extremely close and hard fought for the Lady Rays.  Ultimately the game was decided by key steals by Cadence and Jocelyn Snover, numerous rebounds from Megan Sweeney, defensive intensity from Bridget Sweeney and great shooting by all players.  Coach Travis Barry said, "I am extremely proud of every player on our team.  We got behind and stayed calm and focused on the task at hand.  Everyone stayed positive and aggressive and this allowed us to come from behind by using our half court trapping defense."
Megan Sweeney set a school record in this game with an incredible 33 rebounds.  Jocelyn Snover had 4 key steals at the end of the game, and Cadence Snover had 10 points.  Freshman Piper Noyes scored 4 points in her debut game.
Thursday 12/10- Boys vs. Oasis
The boy's game was tight as well.  The first two intense quarters left the Rays and the Sharks within 3 points of each other, but in the third quarter, the Rays found a new fire and took it to the Sharks, scoring 28 points to Oasis' 19 points. The Rays kept and extended their lead throughout the fourth quarter.  Coach Travis Barry said, "We tried to full-court and half-court trap them in the first half and it just did not work.  We changed strategy and the boys played a very aggressive man-to-man defense which changed everything in the 3rd quarter." 
Kevin Barry scored 32 points, Joe Reisinger had 14 points and Johnny Watt had 13 points.  Johnny pulled down 10 rebounds while Kyler Howard had 9, Kevin had 7 and Joe had 6. 
Friday 12/11- Girls vs. Donahue Academy
The Ladies came out stronger than ever, thirsty for another victory, especially against their long-standing rival, Donahue Academy.  This intensity pushed the girls to get steals at the beginning of the game and take it in strong for layups.  The Lady Rays quickly increased their lead against the Shamrocks which allowed the whole Rays team to get ample playing time.  Megan Sweeney, once again, had an impressive game when it came to her rebounding, which totaled 22.  Cadence Snover had 3 crucial steals and Bridget Sweeney had 4 steals and 10 rebounds. 
The Rays have another exciting week ahead with both teams playing Monday night against the Gators in Everglades City.  The Ladies have another game Friday night at Gateway Charter High School. Go Rays!
Boys Team: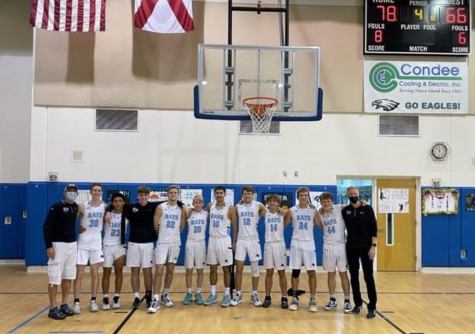 Girls Team: