Thespians To Bring Back Open-Mic Nights on November 20th!
Open-Mic nights originated in the 1930s and continue today. At MIA, these events are a tradition that Theatre Director and teacher, Mr. Dayett, has held for the past few years. They have brought together a diverse group of students and interests together while also creating strong bonds and connections.
Last year, MIA could not hold open mic-nights, in part because of the dangers of COVID-19. However, as we are recovering from the pandemic, the Thespian Society has decided to bring back open-mic nights on November 20th to uplift our campus!
As a fellow Thespian myself, I have gone to many open-mic nights. My earliest memories as a freshman include going to every single one. Performances ranged from football players singing "All I Want for Christmas Is You" to Riley Letendre's hilarious stand up comedy skits.
Right off the bat, when you hear that this event will be held by Thespians, there comes an assumption that it's just for singers and performers. But, it is quite the contrary. All acts are welcome, whether to play an instrument, or sing, or to do stand-up comedy like Riley. There are endless possibilities.
Participation at open-mic nights have shaped some high school experiences. Rachel Weiner was a freshman when she attended her first open-mic night and recalled the acceptance she felt while performing and the bonds she created with many other people in attendance.
"I didn't have many friends when I began school at MIA. Open-mic nights are really what broke me out of my shell," she said.
While the Thespians and Mr. Dayett are extremely excited to bring back one of their most cherished activities, they are not disregarding the pandemic that has not vanished. Precautions and measures are being put in place to ensure safety.
In prior years, open mic-nights were held in Room 303, the Performing Arts room, which contains Mr. Dayetts' vibrant, blue LED lights on the ceiling and risers which we all sat on that created the illusion of an auditorium. And though they would love to keep such a calming environment for this event, open mic-nights will be held outdoors for the safety of our staff, students, and attendees. Face coverings will be required and social distancing will be enforced.
Some might look at this as a negative, but Mr. Dayett believes otherwise. He shared a theatre study, regarding outdoor singing, that "allows singers to perform for longer periods of time and makes it easier for all performers."
If you have been to an open-mic night at MIA, you know the thorough enjoyment of attending. If you haven't been to an open-mic night, we hope to see you on November 20th!
About the Writer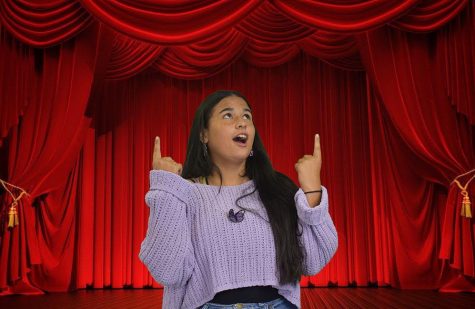 Bella Burgos, Contributing Writer
Bella Burgos is a junior at Marco Island Academy and a staff writer for The Wave. In her free time, she enjoys acting, playing guitar and piano, and participating...