One for the Record Books
What an exciting year for the MIA men's basketball team! The team ended the season with a 16-7 record, tying MIA's best season, and added the PCAC championship to their resume. The Rays were undefeated at home (9-0), and two of their losses were in a tournament in Vero Beach. 
After the championship game, emotions varied. First there were cheers and enthusiastic energy, then there were tears as the team realized it was their last game as a full unit. There are high hopes for this team next season, as all but one player is returning for next season. 
Dominic Moller, the lone senior on the team, said, "This team is in great shape. They will be extremely good next year with Kevin [Barry], Johnny [Watt], and Kyler [Howard] becoming seniors. It's been a pleasure playing on this team and I will never forget it."
While the Rays dealt with many injuries this year, they looked better than ever this season. The 2015-2016 Rays team had a 16-7 record as well, however this year's team averaged more points while holding their opponents to fewer points per game. 
With four players averaging double digits, the team averaged 70.6 points per game. The team was mostly led by Dominic Moller, Kyler Howard, Kevin Barry and Johnny Watt, who combined to average 72 points. These four combined together created most of the scoring, however the rest of the team played their part in every game. 
With all that being said, it wasn't the offense that won them games. Throughout the whole season, the Rays held their opponents to just 50.2 points per game. The team averaged 14.4 steals per game, 3.9 blocks per game, and 29.3 deflections per game. They were suffocating their opponents all season.
After this season, the hopes are high for the Rays. They will be more experienced, stronger, faster, and they will become better shooters. We will see the Rays true potential next year as they try to compete for another PCAC championship and go on the road to states.
About the Writer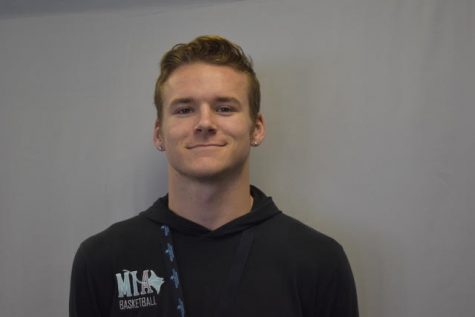 Kyler Howard, Staff Writer
Kyler Howard is a junior at Marco Island Academy. He plays football and basketball all while being in Key Club and writing for The Wave. Yeah, he may be...