New Additions to MIA Family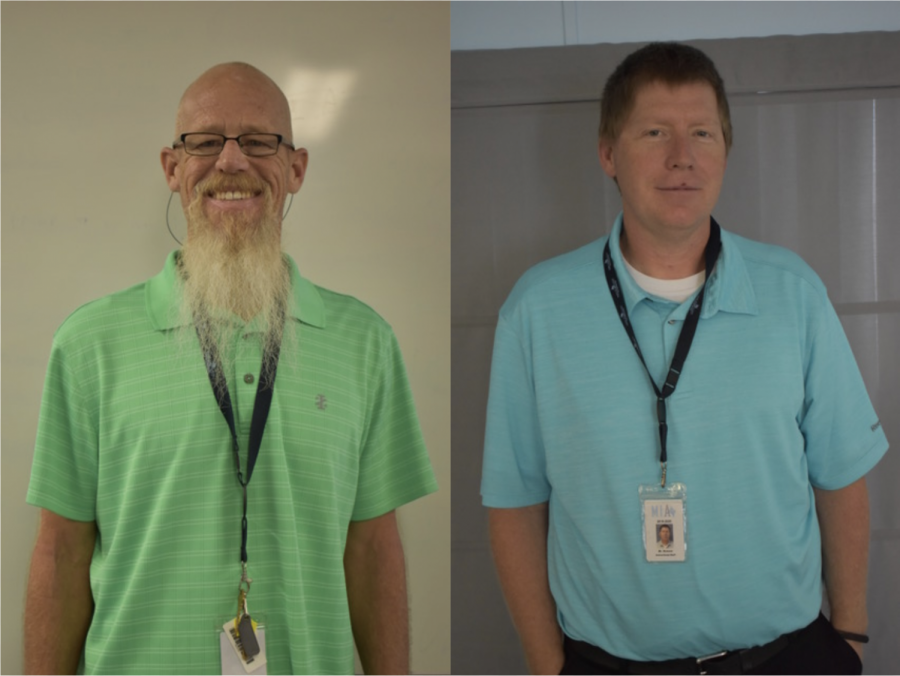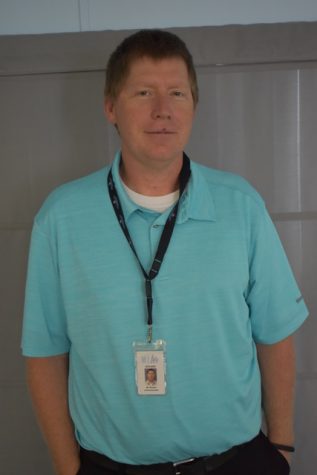 With the retirement of Mrs. Chapman came the search for a new mathematics teacher. After numerous interviews, the administration finally came upon the golden apple: Mr. Howard.
But of course, we had to meet the teacher that would be taking on the task of teaching Algebra and Geometry.
It had been a hectic afternoon, with cars desperately honking outside, anxiously waiting to leave the vicinity of the school, but nothing about the atmosphere of his classroom gave any indication to the whirlwind going on outside. The walls that were once covered in cheesy math jokes were now filled to the brim with countless plaques from sports teams and college gear; a much more serious room to fit his demeanor.
The interview began smoothly with standard questions about his life. Born and raised in Fort Wayne, the second biggest city in Indiana Mr. Howard worked a factory job right out of high school. Recalling his time as a high school student gave a bittersweet taste to the way the conversation was going. He recounted that during his last year of high school, with only two credits left to graduate, his mother became very sick and he began to struggle with his academics. He remembers how little he attended school and how easy it was for an A student to fall so low so fast. Luckily, one of his teachers, coincidentally his math teacher at the time noticed this and did what any good teacher would do: help him get back on track. Mr. Howard said he graduated early, "which wasn't a thing then," which in the end allowed him to focus on his family.
Mr. Howard didn't attend college until his late 20s, and from the very beginning, he knew exactly what he wanted to do. Despite being in school with 20 years olds and working a full-time job, he successfully graduated with a teaching degree. He admitted that part of the reason why he decided that teaching was the career for him, apart from his math's teacher lasting impression, it was his wife. He used to volunteer quite a bit at his wife's school and found the profession a lot more rewarding, thus becoming a teacher just seemed like the natural next step.
After moving down to Florida both he and his wife taught at Estero High School. Before MIA he had never taught at a charter school. So, why MIA? Well, after teaching for 16 years, all it took for him to make the jump was talking to Ms. Scott about our learning environment. He loved our school set up a lot, the no-phone policy in class, the smaller class sizes, and personalized education.
Now for some quick facts about Mr. Howard! His favorite class to teach is Algebra, his favorite hobby is watching or playing baseball, and the one thing he cannot live without it his wife.
He is looking forward to spending the rest of his career making a difference at Marco Island Academy and he cannot wait for those End-of-Course exam scores to come out!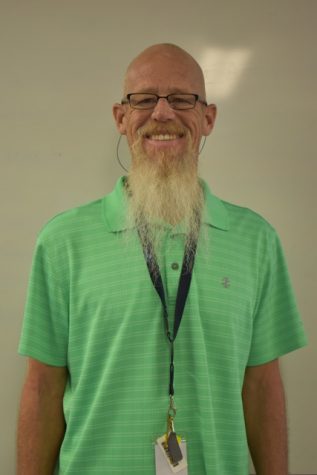 To those of us already familiar with MIA, hearing the name Montgomery is commonplace as that is the name of our former SRO. However, when we all got our class schedules and noticed that our new Social Studies teacher's last name was also Montgomery, we wondered if he had switched careers.
This was not the case. With a white beard that rivals Mr. Butler, Mr. Montgomery is the newest member of the Social Studies Department. Brother to our former SRO, he was raised in Newark, Ohio and attended a small Catholic school. He taught at a very big public high school in New Mexico for 15 years and this is his very first year teaching in Florida.
Mr. Montgomery says he made the change after hearing about our campus from his brother, and realizing that not only did he want to become a part of the foundation of our school and community but also missed his brother. What made him feel like he had made the right choice in moving his family to a different state was witnessing the excitement from students before the school year had even begun. He pointed out that weeks before the first day there were already many of us on campus, either decorating classrooms or setting up our new lunch area. Mr. Montgomery called this a testament to the sense of community that his brother had described the school to him.
He got his first degree in business, but says that life had other plans for him. After graduating he began coaching sport teams and then transitioned into teaching. He is quite the experienced teacher, having taught both grade school and high school. Despite having a business background, Mr. Montgomery decided to become a teacher because he "naturally feels like a teacher," recalling times in his early life where he would help his peers with new concepts. With a laugh, he joked that "if you want to make God laugh, tell him your plans."
Some things worth knowing about Mr. Montgomery! The one thing he cannot live without is pizza, his favorite class to teach is World History "because it gives a better understanding of who we are today," his main hobby is gardening and he was more than happy to show some pictures of rose bushes that he grew back in New Mexico. His plans for the future are simply to become more active in our community, and trying to attend some more of those fun Beach Clean-Ups that we have on Marco with his wife and two kids.
While he is very much looking forward to Halloween, he will not miss the leaves or fall weather of New Mexico.