Tarte Shape Tape
Makeup has become almost a science in creating "technology" that works for your skin specifically while still having a general purpose and effectiveness. A new concealer has been widely recommended to me personally, while on social media and local beauty shops have largely advertised it.
The purpose of a concealer is to offset natural shadows and imperfections. Imperfections such   as under eye bags and blemishes, it has another purpose to, to highlight. However this concealer has another purpose, contouring which is to embrace the natural shading you have on your face for a more angled appearance (cheekbones, jawline, brow bone, hairline). This product is said to promise more than the drugstore concealer as it is as labeled cruelty-free, PETA-certified, vegan and hydrating with a matte appearance.
I have bought the product in the three shades light-medium, mahogany and light to test the product for all of the uses it has listed. On the first day I attempted at contouring, and I say attempt as the shade mahogany seemed to not stay in a straight line as I blended it and made me look as if I used a foundation three shades too dark for me. However I reattempted using a minimal amount of product and used my finger to dab the product, still the product looked too dark and unnatural for contour.
Day two I used it solely as a concealer for my dark spots from acne and under eye discoloration. I used the applicator it comes with which is very convenient however you have to use a very light touch as a lot of product will come out. Once I finished applying the concealer I used a beauty blender and to my delight it looked like I had the perfect amount of foundation. No cakey lines, it looked perfectly matte without any setting powder, and my skin did not feel itchy, tight, dry or even oily.  I wore this to school and my meeting after, twelve hours later and the concealer did not budge.
On my final day I attempted the highlight, first I applied my foundation and set it with elf translucent powder and used my Kat Von D contour kit then began. It was a bit of a struggle to use a cream on top of set makeup but I reverted to dabbing. I left it on all day at school and although it was not a pronounced highlight it did show definition to my nose, cheekbones and chin, and the makeup never melted.
Overall my consensus is that Tarte Shape Tape works best as concealer and as a natural highlight, as for contour a sharpie would have been more subtle. I also have sensitive skin and never broke out once after leaving this product on all day and days in a row. The product's price is twenty-seven dollars in a tube with a good amount of product, a big thing to remember with this product is a little goes a long way.

About the Writer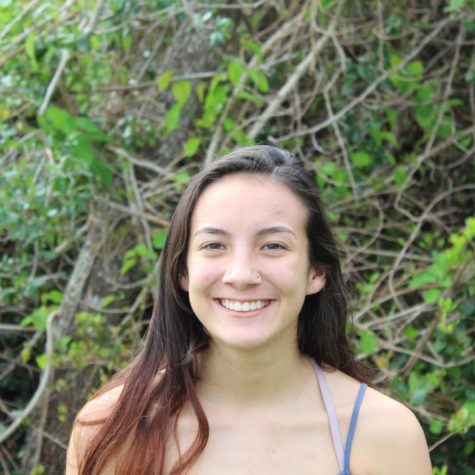 Sandra Martinez, Staff Writer
Sandra Martinez is a seventeen-year-old senior at Marco Island Academy. She has her own section for editorials in the school newspaper called The Wave...