The Troubling 'Troubled Teen' Industry
The popular social media platform that has recently spurred debates surrounding security & safety, TikTok, has been a major concern weighing on government leaders and decision makers. However, increasingly pressing matters have been brought to the forefront of the media through a viral TikTok trend that has motivated traumatized teens to share their stories following the eruption of a new movement.
The "Troubled Teen Industry" (TTI) is an umbrella term that refers to facilities for "troubled youth" that represent a multi-billion-dollar industry in the United States.  It consists of a network of programs designed for teenagers aged 13-18 years old and many of the programs' conditions have proven to do more harm than good.
The programs market themselves to the public, parents, therapists, and state agencies, as therapeutic treatment providers and claim to treat a multitude of mental illnesses and behavioral issues. They attempt to pathologize teens' behavior such as mental health issues, homosexuality, substance abuse, poor grades, and other behavioral issues as problems that need to be solved. 
The industry has recently been brought to the attention of the public and social media as a result of the movement known as Breaking Code Silence, which is an organization created to expose decades of abuse. The founders of this organization started it in hopes of shutting down the industry completely. The organization continues to send letters to Congress and policymakers who can influence change to put an end to the industry and these camps.
Over 120,000 teens in the U.S. are placed into wilderness camps meant to help 'troubled teens'. The methodology is to destabilize teens so much to a point where they are scared and shocked into improving their behavior and habits.  Many of the survivors who underwent harsh treatment in these camps have come forward, posting videos, sharing images, and describing their experiences from the time they spent in the wilderness camps. Some of these videos quickly went viral gaining millions of views, and users expressed their sympathy for what the teens went through during their time spent in the camps. 
"
We were severely emotionally abused there, they stripped our identities."
— Daniel Stearns
One particular TikTok user, Daniel Stearns, posted a video describing his particular experiences that quickly went viral. Stearns described that one of his friends from his time at the wilderness camp had recently died by suicide. He explained his specific experiences there and provided pictures, some of which he explained camp leaders insisted that he smile in.
Stearns has used his platform to connect with other people who shared similar experiences from the troubled teen industry, and advocated for those who have difficulty divulging their own stories. He has partnered with the Teens for Profit organization, which is a small group of three survivors working on a documentary series to "cinematically expose the troubled teen industry." 
YouTube
With the recent Breaking Code Silence movement trending, rapper and previous Dr. Phil guest, Bhad Bhabie (Danielle Bregoli), was inspired to speak about the abuse she experienced and witnessed.
She explained in an 8-minute long video that she was sent to Turn-About Ranch for six months after her appearance on Dr. Phil when she was 13. Bregoli described how the camps are mainly centered around taking away privileges. Furthermore, privileges such as "the phone and the TV and all of that" were taken away, while necessary privileges were also taken from the teens "like sleeping on a bed, eating good food, not being cold."
YouTube
Paris Hilton was also placed into a wilderness treatment camp for 11 months and released a documentary illustrating some of what occurred in the camp she was placed into. Hilton discussed that in the time that she was there she was often physically and emotionally abused by the staff. She had little to no privacy and was punished by being placed in confinement without any clothing. 
In her documentary, This is Paris, Hilton also spoke up about some of the things she witnessed happen to other teens in the camp and how her traumatic experiences gave her insomnia and nightmares long after she was out of the camp.
"
This is the only place where it's impossible to run away."
— Paris Hilton
Though a select few teens said that the camps they were put in did them good, the vast majority of those coming forward to talk about their experiences shared that they have developed PTSD, insomnia, or other trauma related injuries due to the harsh mental and physical conditions they were forced to endure.
The physical requirements of treacherous hiking in addition to their responsibilities and tasks often caused long term health issues. Some camps even limited access to showers and hygiene products causing the teens to become dirty and prone to illnesses. 
The viral Tiktoks posted by survivors of the 'troubled teen' industry bring attention to the issue of abuse and provide insight to some of the many mental and physical battles teens in the camps were forced to endure. Oftentimes the health and wellbeing of the teens was put after any of the tasks and responsibilities they had in the wilderness camps.
16-year-old Rowan Bissette was one of the many teens pulled from her home in Florida to a wilderness treatment camp in Utah following long term mental health and behavioral issues. Upon her arrival she was given only one set of clothes for a week and instantly forced to hike while carrying a 40 pound backpack, which eventually began to rub her back raw.
Depending on where they would need to set up camp, they hiked anywhere from a half a mile to 15 miles a day in extreme temperatures. For her protein allowance Bissette was only provided with two packs of tuna a week. Due to the constant hiking and overexertion, Bissette and some of the other teens would often pass out during hikes.
Apart from the harsh conditions, it has also been revealed by Bissette and many other teens that sexual assault and sexual harassment was not uncommon within the programs. Recent investigations have found 13 or more people fired or resigned from youth treatment centers from 2018-2021 for allegations of inappropriate sexual behavior.
In a number of different wilderness camps across the United States there were 35 recorded deaths of teens as a result of the conditions in these wilderness camps from 2011-2019. Since 2020, there have been 16 recorded deaths.  This number is expected to rise as data is collected from various camps. 
The unregulated conditions and extreme abuse happening within these wilderness camps was, and still is, a major issue. With the number of victims of the troubled teen industry rising, and more wilderness camp survivors coming forward, the time might be ripe to push this issue to the forefront. 
Perhaps government leaders and policy makers should shift their focus from TikTok's security issues to addressing the concerns being brought forward by users sharing their stories.
View Comments (1)
Your donation will help support not only the student Journalism and Yearbook clubs at Marco Island Academy, but as well as any new equipment, club improvements, and annual website hosting costs.
About the Contributor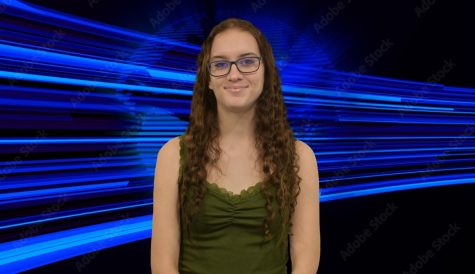 Sophia Lowrie, Executive Editor
Sophia Lowrie is a senior at Marco Island Academy and the Executive Editor for The Wave. She loves baking and cooking for friends and family and reading...