Top Holiday Activities to Do on Marco Island
Visiting a tropical island for Christmas is a dream come true until you realize it's hard to find Christmas activities to do on this small island. Although most of the Christmas festivities aren't well know to tourists, here are the best Christmas activities to do around Marco Island
1.Christmas lights around the island.
Every year, houses and businesses on the island compete in a holiday light decorating contest. Individual houses and businesses decorate and compete with each other for the winner title each year. Here is a list of last year's winners and other houses that are driving around to see, provided by The Coastal Breeze. Although it is possible that not all of the houses on the list are competing again this year, the majority of them compete every year. 
2021 Top Ten Finalists
(in no particular order)
1208 Fruitland
161 Bermuda
1453 Bermuda
1955 Sheffield
1842 Dogwood
975 Leo Court
1572 Shores Court
1591 Galleon
371 Yarmouth
920 Ruby Court
Also Worth Seeing
780 Copeland
752 Caribbean
91 Bermuda
1952 Sheffield
1626 Ludlow
Previous Winners "Lit" in 2021
(not eligible this year)
151 Channel Ct.
1264 Whiteheart
865 Swan
513 Nassau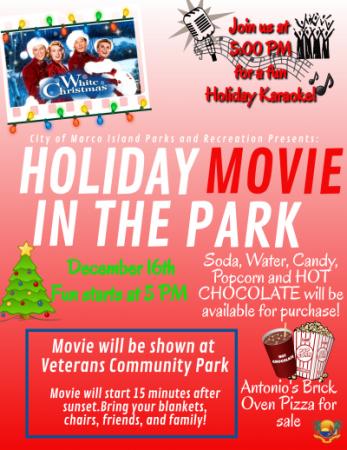 2. Movie in the Park at Veterans Park.
Although Mackle Park will often do movies in the park nights throughout the year, Veterans Park is now back open and the movies are now there. This holiday season they will be playing a sing along movie, "Winter Wonderland", at 5:30 pm, Dec. 14. They are free to attend but there are popcorn, chips, & soda will be available for purchase.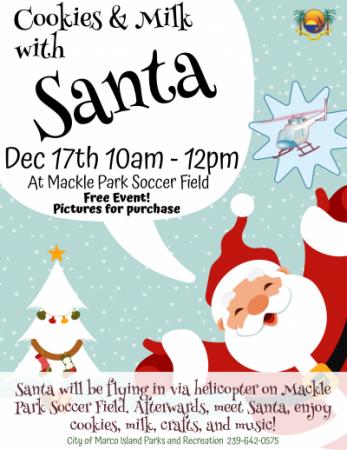 3. Cookies and Milk with Santa.
If you are looking for a nice Christmas activity to do with young kids, I would recommend going to Cookies and Milk with Santa at Mackle Park, Sat., Dec. 17th, from 10am – 12pm. It's free to attend and Santa will be arriving at the field in a helicopter! After he arrives, kids will be able to bring or write a list to Santa and enjoy milk and cookies with him!
4. Santa's Last Stop
Santa's Last Stop is a holiday market at Marco Island Center for the Arts on December 17-18 2022, from 10am – 5pm. This little market is the perfect place to stop and grab some last minute handmade items, Christmas gifts, food and much more!
5. Marco Island Annual Boat Parade
Every year, the island has a boat parade where anyone on the island can enter and drive in the parade with their boats all decked out. This year, the boat parade will be on Sat., Dec. 17th at 6pm. The best spots to view the parade are going to be either The Esplanade or under The Jolly Bridge.