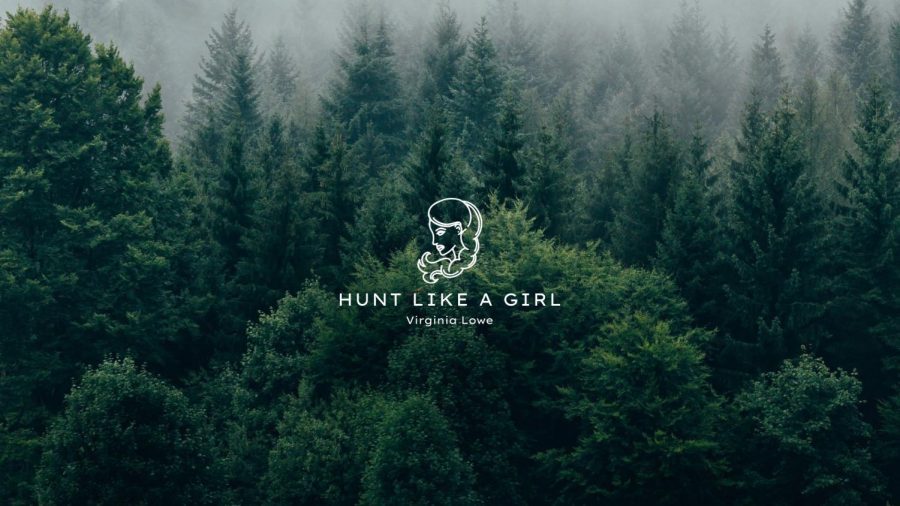 Hunting is typically thought of as a man's sport. The idea of girls hunting may be unusual to others, especially at our school, but I grew up hunting.  While I may not always know the caliber of each gun or the difference between birdshot and buckshot, I enjoy learning more about the sport while spending time with my family.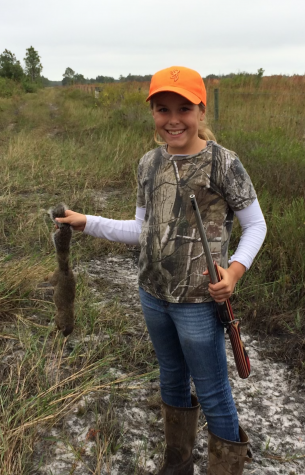 The first time I ever went hunting was when I was eight years old. We were filling feeders and my dad saw a squirrel in a tree. He grabbed the shotgun and told me to shoot it. I was initially anxious and even a little afraid to pull the trigger. I didn't like the noise of the gun and I thought the recoil was going to hurt. Although it might not have been the best shot, it was my first harvest. 
As I got older my dad would have me shoot different guns and I would still hesitate to take the shot even though I had shot before. When I go hunting, my dad always takes care of me. He sets up the guns, gets water, gets the buggy ready and all I have to do most of the time is sit down and relax. This is the plus side of being a daughter when going hunting. Most of the time, all I have to do is sit back, point, and shoot. However, recently my dad has been teaching me more about the preparation and teaching me ways to improve my chances of a successful hunt.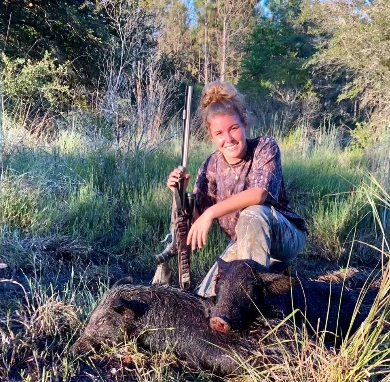 My favorite hunt was when I had the opportunity to sit in a tree stand with my dad and two wild boars walked in. My heart instantly started pounding as soon as my dad warned me to get ready. I could feel my adrenaline begin to flow rapidly, but I had to steady myself. The first boar was down and I thought the hunt was over. As the second hog started to loop around after the first shot, my dad told me to chamber another round. My heart started pumping even faster, but I was able to calm myself enough to take another shot. That was my second time boar hunting and it is a trip  I will never forget. There were two hogs down and lots of meat for our freezer.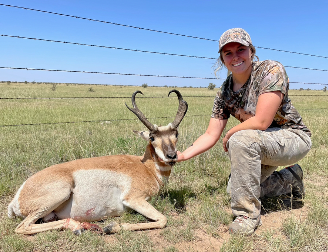 Hunting has also allowed me to travel and see new places around the country. We consistently travel to the farmlands of Illinois to hunt whitetail deer and most recently traveled to New Mexico to get my first antelope. New Mexico was an incredibly different environment than the beaches and humidity in Florida. The hunt was immensely different than what I was used to. We first attempted to spot and stalk which ended up being unsuccessful as the animal caught us as we got closer. Fortunately, we were able to find another mature antelope out at about  250 yards. I was able to steady myself in a prone position and took the shot after some hesitation. It was an incredible moment and I was overwhelmed with joy to be able to experience the hunt with my dad. 
Hunting has taught me about the appreciation of harvesting your own food along with the importance of growing closer with my family and friends.  Traveling is an added bonus to the experience because it is my dream to see the world one day. Hunting is also about conservation and helping sustain the environment and protect our resources. This is important to me because I would like to be a shepherd for the environment. This is what it means to hunt like a girl.