Teen Lingo 3.0
Here are the latest, most popular teen slang words and phrases. Use this list to assist in understanding what current teenagers are saying these days.
Slap (adjective/acronym) when used as an adjective it means great or really good. As an acronym it means Sounds Like A Plan. 
Example: Your friend makes a plan to go to the beach at 6pm to confirm you can say "SLAP's"
The move/moves(noun/phrase) The moves refer to the plan of activities someone makes.
Example: You would ask, "What are the moves for tonight?" to ask what the plans are.
It's the ___ for me (phrase)  based on the situation the blank is filled in. The blank will relate to the reason why something is bothersome. 
Example: (it is really hot outside) "It's the boiling heat for me."
Not you ___ (phrase) this phrase is often used to call out hypocrisy. 
Example: Someone criticizes your cooking while they can't boil an egg themselves. The phrase may say, "Not you judging my cooking."  
I- (phrase) used to show shock or astonishment that caused a lack of words
Example: A friend says something shocking you respond "I-"
Swag (adjective/noun) As an adjective, describes something that is cool in current standards. As a noun, "the swag" can be used similarly to "the drip" meaning the outfit.
Example: You put together an awesome outfit and go to show your friend you can either ask "Am I swaggy?" or " What do you think of the swag?"
Hits different (phrase) Used to describe something having a different feeling than normal. Like when you eat a meal while being really hungry compared to a typical time. The food would "hit different" as it feels more satisfying.
Example: Someone brings your favorite childhood snack that you haven't had in a while. You could say, "This nilla wafer hits different." While the nilla wafer will taste the same it would hit different because it gives you a sense of nostalgia.
Sleeping on ____ (phrase) When something is "slept on," it means that it is not getting enough attention. 
Example: you find a really good show that has been out for a while but isn't too popular. You believe it deserves more attention, so you would say, "You guys are sleeping on iCarly."
Chil- anyways so (pronounced like child without the d) (Phrase)  Used as a way to acknowledge something shocking and then move on from it quickly. 
Example: A friend could say "I failed my psychology test" you can say "Chil- anyways so" to change the topic of conversation but acknowledge what they just said
Main character(noun) Similar to how the main character in a movie is the star which everyone focuses on, a main character is someone who has it all.
Example: Someone is killing it on the dance floor, and you could say, "They are the main character."
V (abbreviation) V is an abbreviation for very
Example: You get a blog for homework so you can say, "That is v upsetting."
P____ (Words that start with P) Depending on the context a word that starts with P is used in place of saying pandemic. 
Example: "Because to the panda express I haven't been able to hangout with my friends." 
Sus (abbreviation) Sus is an abbreviation for the word suspicious.
Example: "The person standing behind the tree is looking sus."
CEO of ____ (phrase) When someone is the CEO of something they are the best at it.
Example: Someone who had really good handwriting can be referred to as the "CEO of writing."
On a real note (phrase) This phrase is used to signify that what is going to be said should be taken seriously. 
Example: "Guys, on a real note, that comment made me upset."
Queen/King (Noun) Queen/King is used as an uplifting and positive nickname. 
Example: If you want to say good morning to a friend in a new way, you can say "Goodmorning Queen." 
Bussin'(adjective) This is a shortening of the word Busting. Similar to how the term "fire" can be used to describe food, "bussin" can be used the same way. 
Example: your friend brings you food that is really good, you may say, "this cupcake is bussin."
About the Writer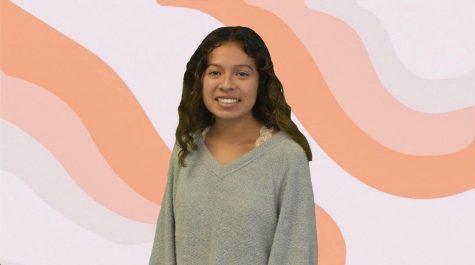 Yessenia Martinez, Contributing Writer
Yessenia Martinez is a junior at MIA and a Staff Writer for The Wave. She runs for MIA's cross country and track team. Being a Marco Island native she...